Rueben Slape(1859-1918) and Eliza Dubber(1860-1924)
When I started my research into the family many years ago, my grandparents, Frank and Elsie Scott, told me of an Uncle 'Ruben'. After Frank's death when Elsie wrote some notes for me she thought that maybe he was a brother of Uncle Cobby or of Auntie Cobby (Auntie Cobby was Elizabeth Marion Scott, sister of Walter Scott, Frank's father). This was clearly not the case. However she did write that he spent some time with the Cobby's and this was were Frank often met him -- she continued "& a very heavy drinker he was". I am not sure how much truth there was in the final remark, but it seems clear that the 'Ruben' that she wrote of was Reuben Slape, older brother of Frank's mother Julia.
It was very pleasing when about 1995, a great grandson of Reuben, Derek Slape, answered a letter I had sent to all the Slapes I could find addresses for in Portsmouth. Derek had done a lot of research into the Slape family in Portsmouth and he has very kindly lent me the results of his research and allowed me to reproduce it. I have hopefully done it accurately, however the information I present at this time is just a fraction of what he has accumulated.
Birth
Reuben was born in Southsea on 27 June 1856, the son of George Thomas Slape and Sarah Good.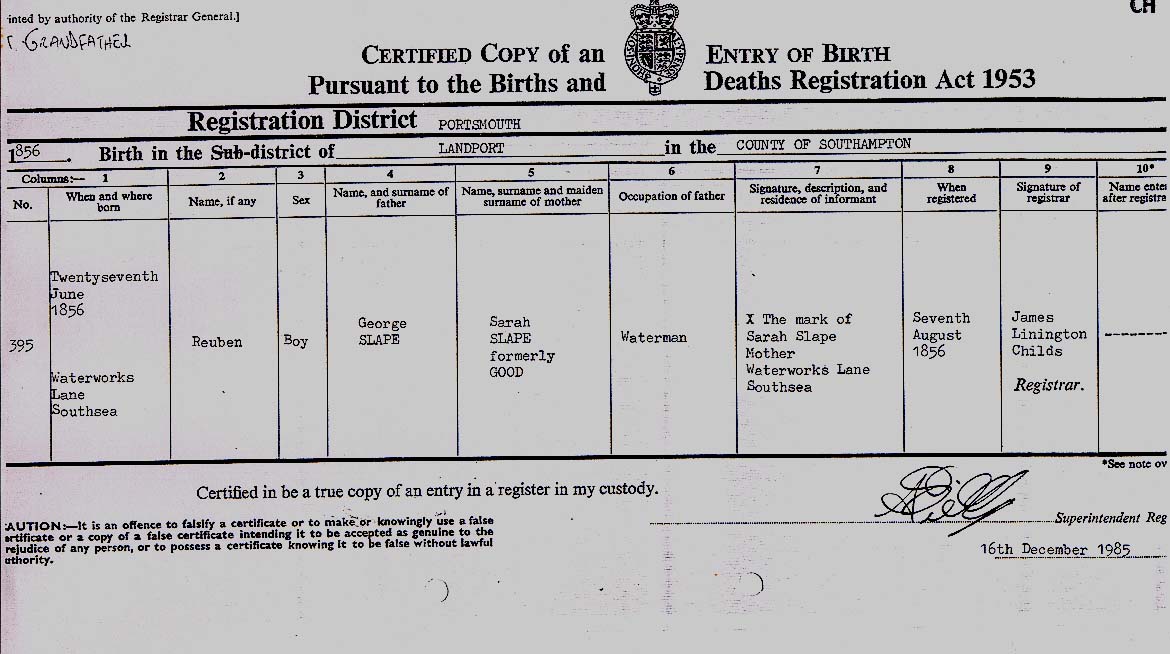 The birth registration is interesting as it again shows his mother Sarah making her mark rather than signing her name. It also clearly indicates that his name is Reuben; in later life he also used the name Richard.
He was the oldest of the children and upon his father's death in 1870 was undoubtedly faced with additional responsibilities for his 6 younger siblings. We know nothing else about his childhood.
Marriage
The 1871 census shows Rueben as an errand boy. By 1882 he is a cook's assistant in the Royal Navy and marries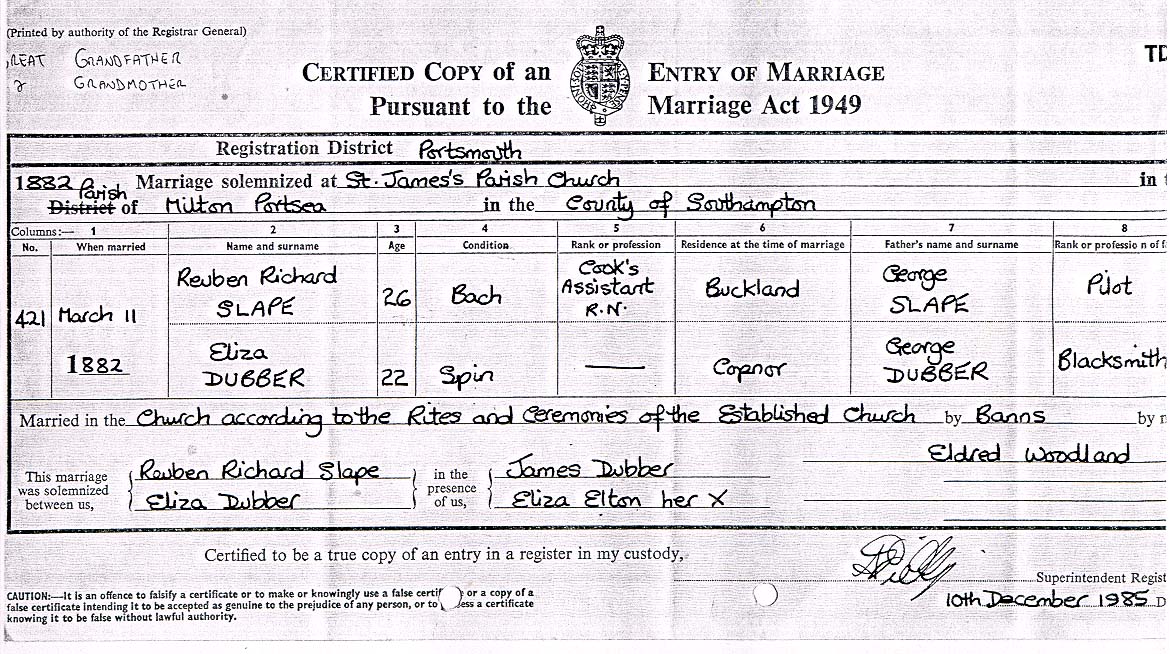 The Family
Children of Reuben Slape and Eliza Dubber[1]
| | | | | |
| --- | --- | --- | --- | --- |
| Name | Date/Place of Birth | Married to | Date of Death | Place of Death |
| George Henry | 4 March 1891, Southsea | Isobel Maud Patricia Black | 28 July 1962 | |
| William | unknown | | unknown | |
| Edith[2] | unknown | | unknown | |
| Minnie[2] | unknown | | unknown | |
Sources:
[1]Derek Slape provided the information on these children.
[2]According to his death certificate Edith or Minnie must have married an H. Beer.

Death and Burial
Rueben died on 31 October, 1918 at 67 Upper East Street, Southsea at the age of 62. His wife Eliza died 18 October 1924.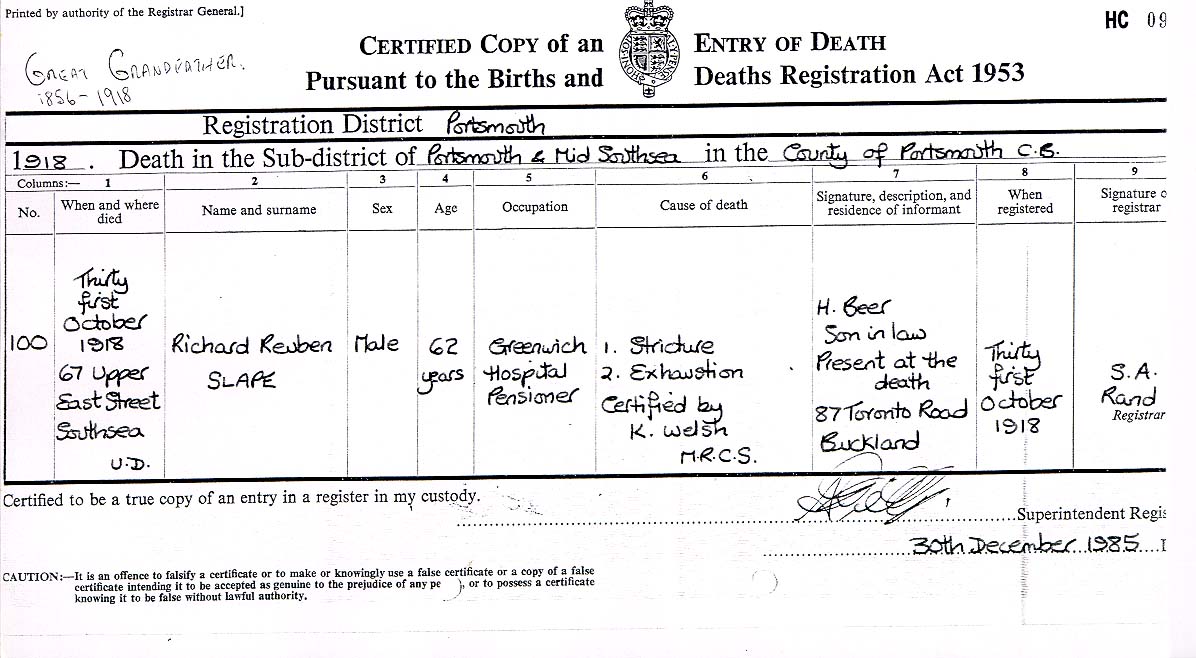 Death certificate for Reuben Slape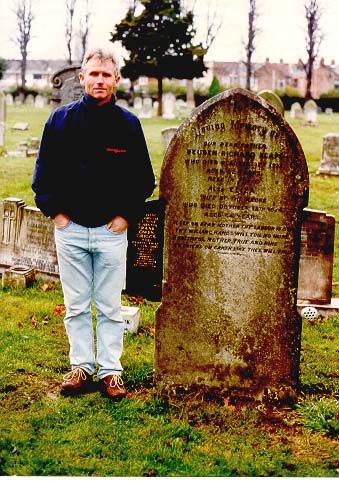 Derek Slape, great grandson of Reuben stands beside the gravestone of Reuben and Eliza at Kingson Road Cemetery, about 1999.
The inscription on the grave reads:
"In loving memory of
our dear father
Reuben Richard Slape
who died October 31 1918
aged 62 years
rest in peace
Also Eliza
wife of the above
who died October 18th 1924
aged 64 years
Sleep on dear mother thy labour is o'er
Thy willing hand will toil no more
a faithful mother, true and kind
no friend on earth like thee will find"
---
Research Required:
[1] obtain details on the children of Reuben as well as other information about Reuben
---
Acknowledgements:
[1] Derek Slape for this information on Reuben and Eliza and for guided tours of Portsea to see places the family had lived..
This document is 'in progress'. Any errors are mine. Contributions to this account of the Moses Good would be much appreciated.
---
ŠKenneth Scott and others
last modified 15 November 2001