| | | |
| --- | --- | --- |
| | Honouring | |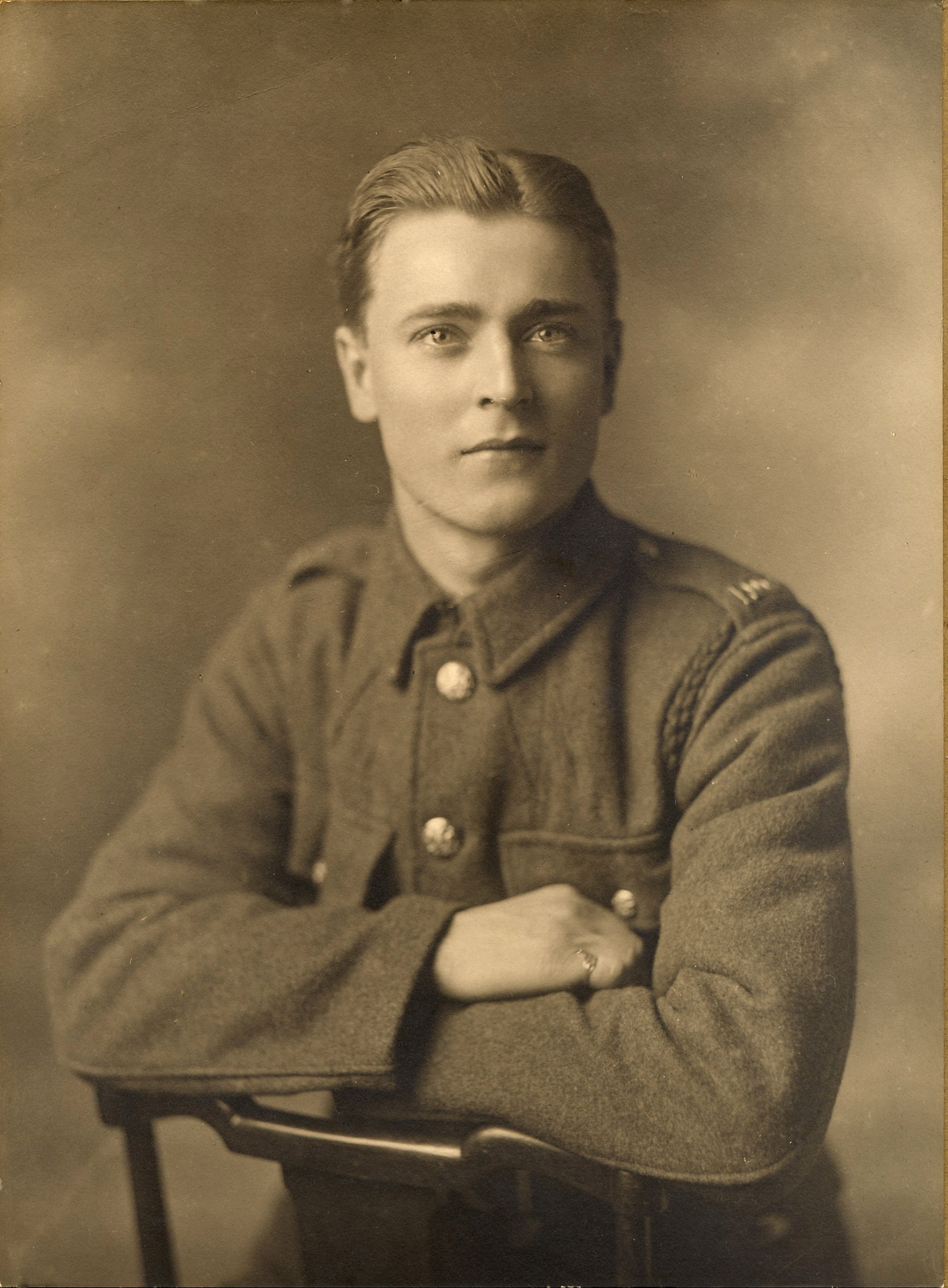 Arthur John Barnes
Army Ordinance Corps
Royal Berkshire Regiment
The Military Service of Arthur Barnes

Arthur Barnes enlisted in the Army Ordnance Corps on 26 October 1915 during the Great War of 1914-18. It is believed he was based in Portsmouth, possibly involved in the dispatch of munitions.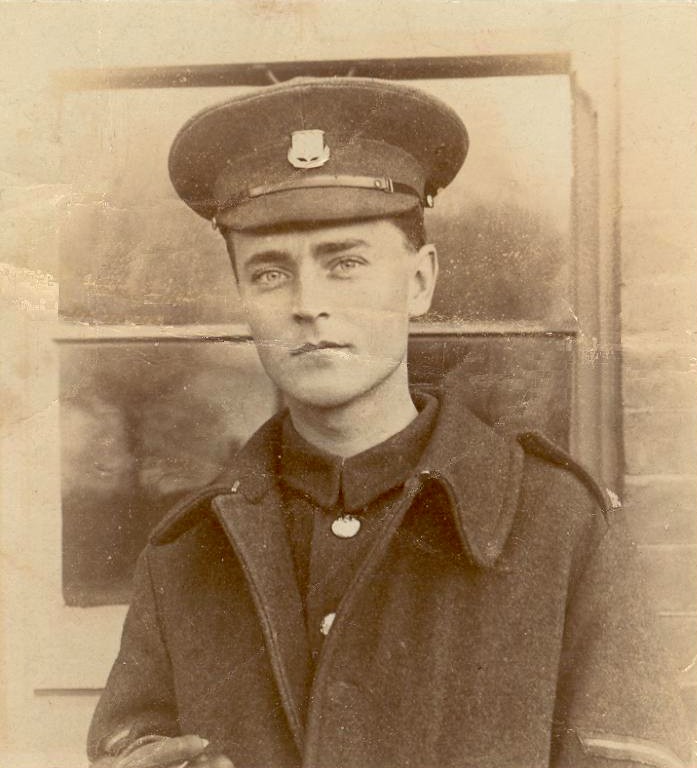 Arthur, about 1916, wearing the chevron of a lance corporal and the hat badge of the Army Ordnance Corps
He was subsequently transferred to the 5th Battalion of the Royal Berkshire Regiment and trained at Catterick in Yorkshire and Cambois in Northumberland during the summer of 1917. He became a sniper, although it is not known if this part of his training took place in England or France. Arthur probably embarked for France in early November 1917 because he wrote a postcard to his fiancé, Kathleen (Kitty) Scott from Rouen in Normandy on 9 November 1917.
Arthur seldom spoke of battles he participated in, although he did claim he once surrounded 2,000 Germans single-handed! However the 5th Battalion's movements can be traced from its war diary. It is thought likely he would have fought with his battalion at the Battle of Cambrai. This combined tank and infantry offensive began on 20 November 1917. It was initially successful and overran the German defences. However a German counterattack on 30 November took back most of the territorial gains. Arthur's battalion was left with around 100 fit officers and men out of 607 who had joined battle. The remainder were dead, missing or wounded. The battalion went into reserve in the area around Béthune, about 40 km to the northwest.
By early 1918 the 5th Battalion of the Royal Berkshire Regiment was taking turns to man the British lines in the Fleurbaix sector near Armentières with spells in reserve.
A major German offensive, the Second Battle of the Somme (or Battle of St. Quentin), took place between 21 March and 5 April 1918. Arthur's battalion was involved in desperate defensive fighting north and west of the town of Albert and suffered heavy casualties. A newspaper cutting, found in Arthur's personal effects along with his medals, describes these events and represents strong circumstantial evidence that he was involved. The offensive succeeded in cutting a salient about 75 km deep into the Allied lines but it came to a halt as German supply lines became stretched and their numbers depleted.
The 5th Battalion was again involved as the Allies went on the offensive through the summer of 1918, helping push back the Germans. It was in this period that Arthur was taken prisoner during an unsuccessful attack. It is not known exactly where and when this happened but, since most of his battalion's attacks were successful, one can make an educated guess by looking at those attacks that failed. There appear to be two possibilities. The more likely of the two was an assault on German trenches near Carnoy on 26 August 1918, in which the battalion lost 45 officers and men killed, 98 wounded and 31 missing. The only other likely venue for his capture was Nurlu, where an unsuccessful two platoon attack on enemy trenches took place on 26 September 1918.
The known facts, as related by Arthur, are these. He participated in a failed attack on German trenches in which his commanding officer was shot. Arthur and a companion ended up in a shell hole near a horse-shoe trench after the attack broke up. They climbed into the trench and heard German voices from the other side of the horse-shoe. They disposed of their weapons and buried their Mills Bombs (grenades) in the mud then surrendered. They were escorted back behind the lines by German Uhlans (cavalry). It may have been a long walk because Arthur spoke of prisoners eating turnips they took from farm fields they passed. After interrogation at a hut somewhere behind the lines, they were taken to Germany.
A postcard to Kathleen Scott from Limburg (east of Koblenz), dated 1 October 1918, informed her he had been taken prisoner. He was still in transit when the card was sent.
Arthur finally arrived at a prison camp in Dulmen, 30 km southwest of Munster in Westphalia. One of the camp guards asked the meaning of the sniper's badge he wore on his arm. Arthur lied and said it was a regimental insignia because he feared he would be killed if his captors knew the truth. Later he removed it!
He remained a prisoner until after the Armistice of 11 November 1918. A contemporary account claims the prisoners did not know of the Armistice until about three weeks after hostilities had ceased. One morning the inmates discovered the gates of the camp were open and the commandant told them they could go!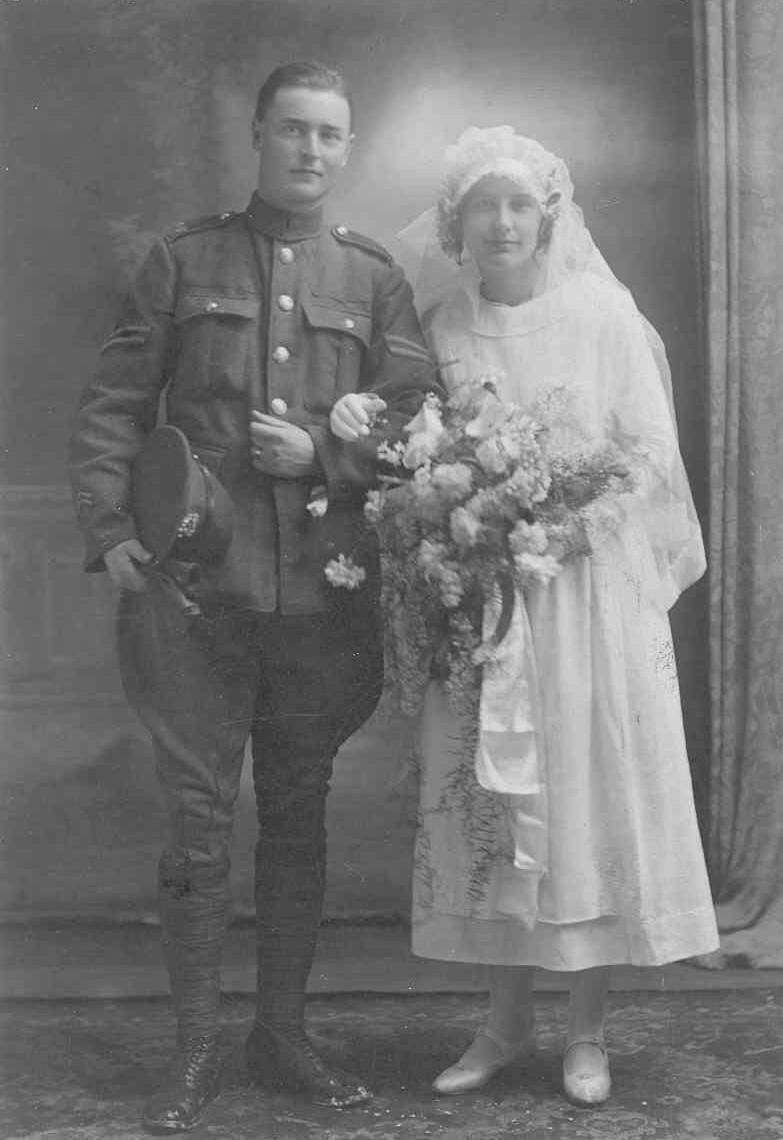 Arthur married Kathleen Scott at St. Matthias Church in Ditchling Road, Brighton on 25 January 1919.
He is wearing the chevrons of a corporal and his hat badge is that of the Royal Berkshire Regiment.
He was demobilized on 27 February 1919 with the rank of corporal (no. 41383). His daughter Joyce Eileen Barnes was born on 11 November 1919, exactly a year after the Armistice.
When Britain declared war on Germany at the outbreak of World War Two, on 3 September 1939, it was Arthur's 47th birthday. He served as a sergeant in the Home Guard during that conflict.