Note: This page is under development -- expected completion 23 November 2018

Herbert's Childhood
Herbert was born 7 June 1895 in Gosport, [source naval and census records] the son of Edmund and Kate Alice Good who were butchers. His father was a third generation butcher whose father, Edmund Good, grandfather, Edmund Good, and great-grandfather William Good were all butchers, William Good also being a cattle dealer.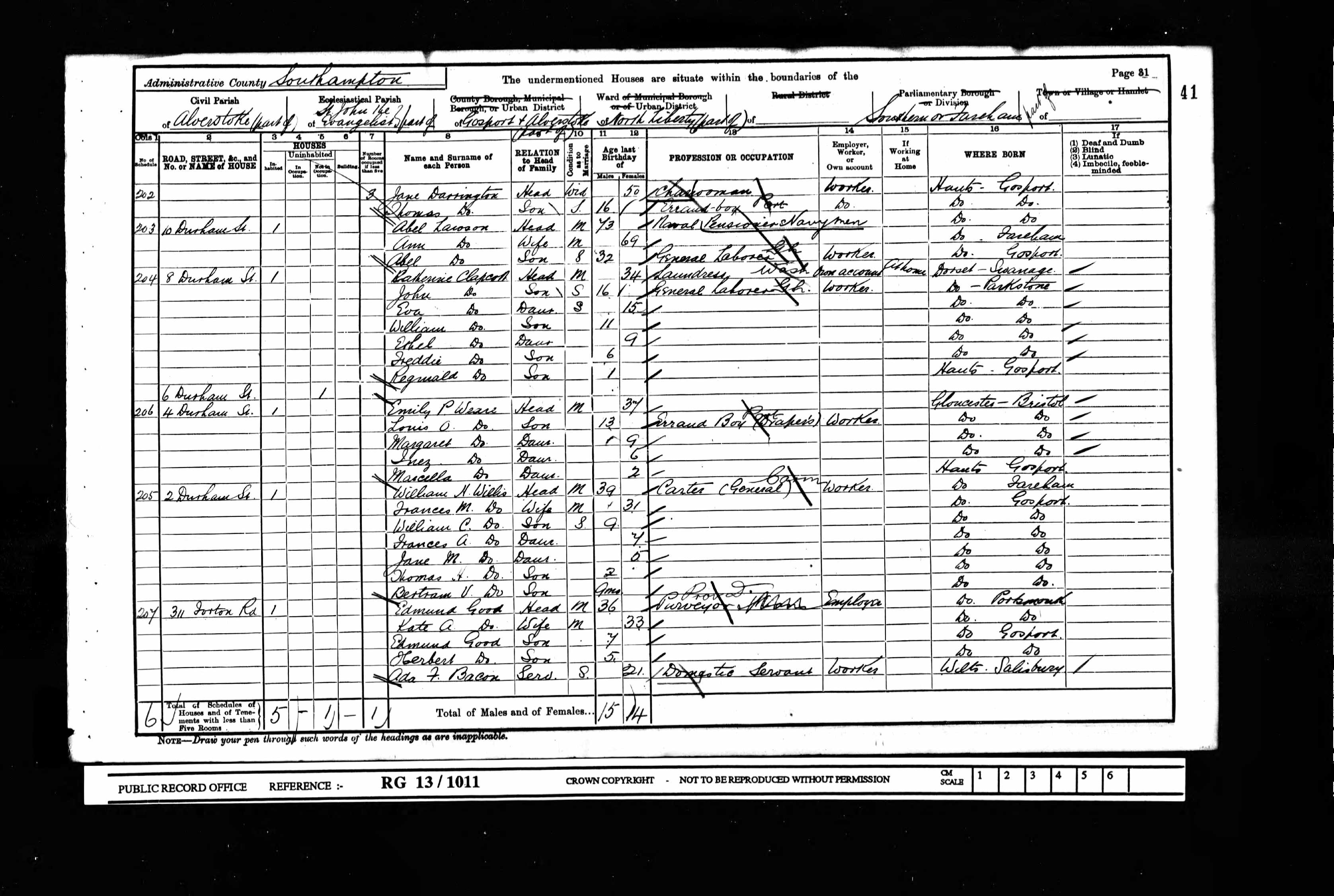 Herbert is a 5 year old boy living at 311 Forton Rd. Gosport. The occupation of Edmund's father
(purveyor) is not clear from the entry, but he is an employer. From family knowledge we know he was a butcher. The mother is named Kate. Herbert has a brother, Edmund, 2 years older than he. The census address of 311 Forton Road is likely incorrect -- it should be 310 Forton Road [source: Carole Jarmon, grand niece]. The building currently at 310 is of relatively new construction.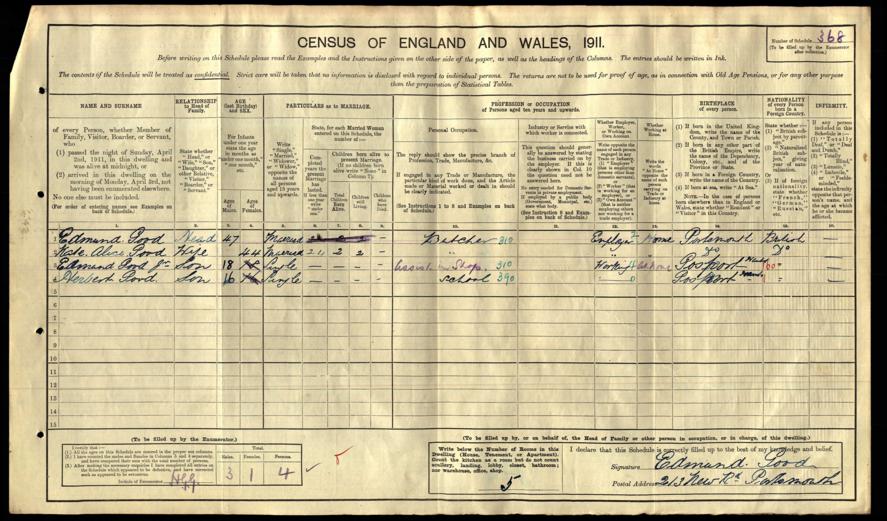 Herbert is shown as a 16 year old who is at school.

By 1911 Herbert's father has relocated his business to 213 New Rd. in Portsmouth. Herbert's older brother Edmund is working in the butcher shop, while Herbert is still at school. The address still exists and looks to be a building that dates from that time. It is currently a bicycle repair shop. It would be interesting to know why the business location was changed. Perhaps it was inherited from Edmund's father (I do not know when he died, of if he owned the property -- the GOOD family owned various properties in Portsmouth in earlier generations). Perhaps Edmund also kept the location in Gosport.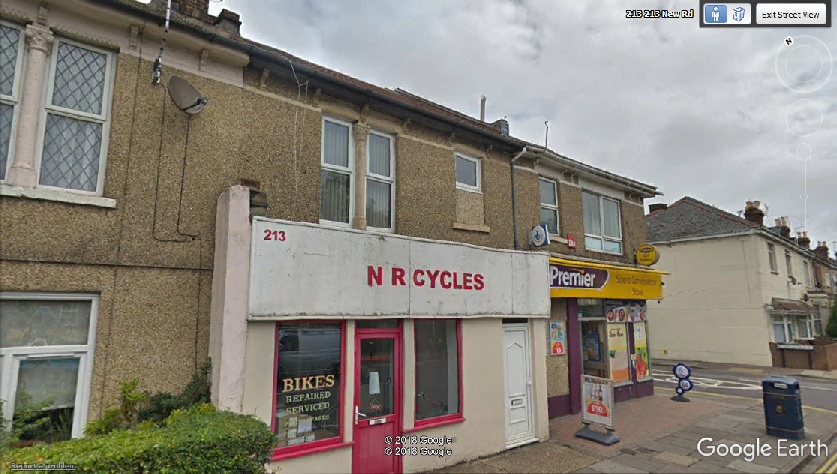 213 New Road, Portsmouth, today
Military Service
At this time we do not have the personnel records of Herbert's service in the Royal Navy. We do, however, have a record of the ships and establishments he served with during his career as well as the promotions that he received during that time, as shown below. These records relate particularly to where he was serving and when he was promoted for purposes of ensuring that he was accordingly paid.

The Early Naval Service
On 8 August 1911, at the age of 16 Hervert joined the Royal Navy (RN) as a boy artificer. When he turned 18 on 7June 1913 he enlisted in the Royal Navy for an initial commitment of 12 years. That was a common enrollment at that time in the armed forces of the United Kingdom. He served continuously in the RN until his retirement, until after WWII. Had it not been for WWII he would likely have retired at an earlier age, but with the war his service was extended 'for the duration'.

Engine Room Artificers and Electrical Artificers were some of the most highly skilled and well-paid enlisted men in the Navy. They were selected upon entering the service to receive several years of training ashore in the naval dockyards before being assigned to vessels. Chief Engine Room Artificers and Chief Electrical Artificers ranked above most other chief petty officers and wore three buttons on the cuffs, similar to warrant officers. They did not wear any distinguishing badges, except for a cap badge with a purple background (see above). Engine Room and Electrical Artificers (rated 1st through 4th class) also ranked as chief petty officers, and wore Class I uniform without specialty badges as well, but with plain cuffs.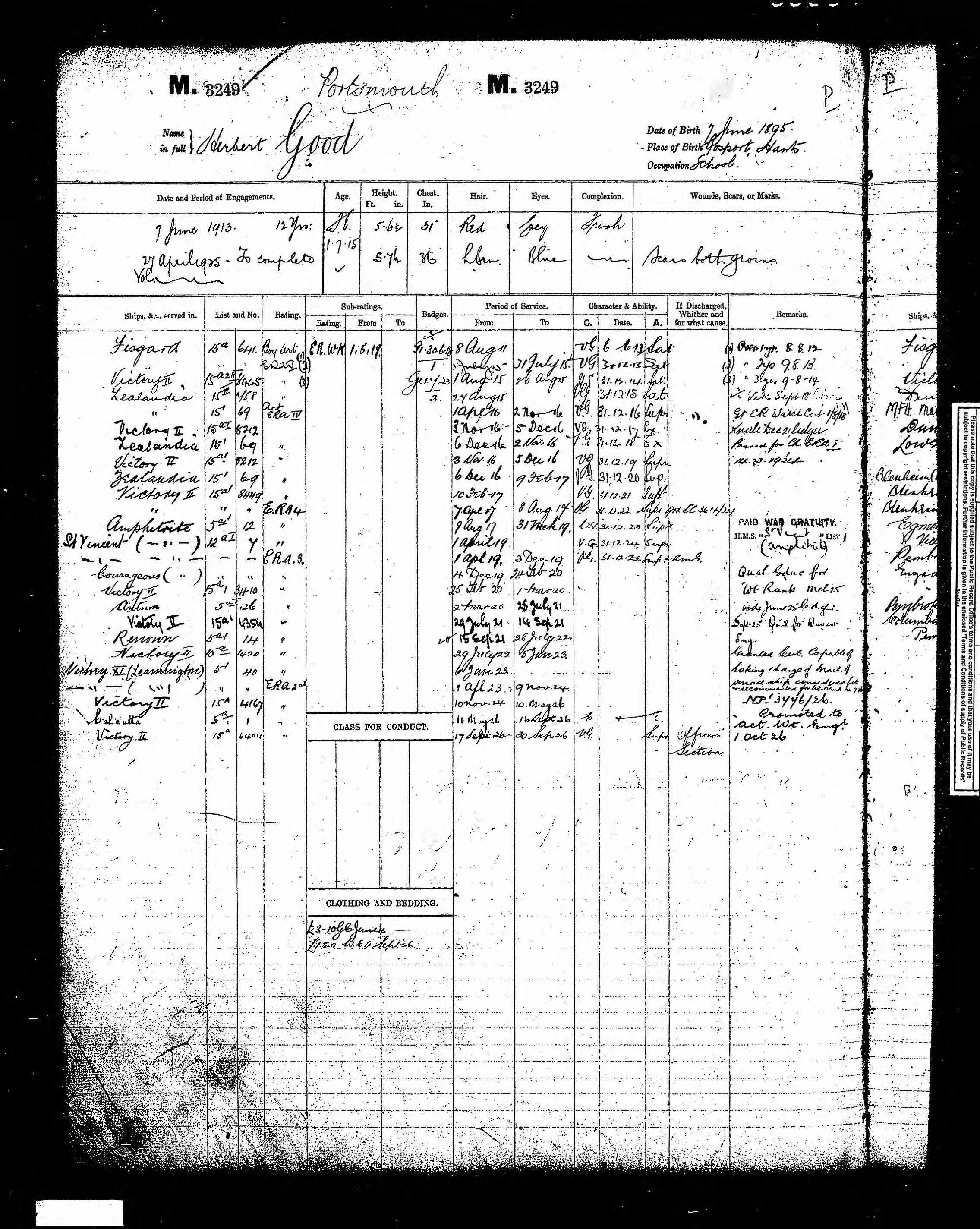 Herbert's navy record for his first 12 year enlistment. [source: ????]
The navy record has a number of interesting facts about Herbert and his service during this time period of 1911 - 1925.

We see that Herbert has become a boy artificer in the RN at the age of 16, stationed at HMS Fisgard. This was a shore establishment created to train engineering staff to man the ships of the RN. On his 18th birthday, he ceases to be a boy artificer and joins the navy as a full fledged engine room artificer (E.R.A.) for an enlistment period of 12 years.

An Engine Room Artificer (ERA) was a fitter, turner or boilermaker in the early days of steam-powered warships. Usually working under an Engineer Officer, they were able to read and write, competent in the workings of engines and boilers, and trained in the maintenance and operation and uses of all parts of marine engines. ERAs were the senior maintainers and operators of all warship mechanical plant.
We see that he is 5 ft. 6 1/2 inches, a chest of 31 inches, with red hair and grey eyes and of fresh complexion. Interestingly no weight is recorded on this form -- at that time virtually all people were trim and he would probably have weighed about 120 lbs. The form records his birth date and birth location and indicates he has been at school -- his training at HMS Fisgard. To be accepted into the program at HMS Fisgard would indicate an above average mind and aptitude for mechanical things.

The form then goes on to list his various assignments to shore establishments and ships over the succeeding 12 years of his first enlistment. These are summarized in the following table with comments, where possible, on the assigments

Ship/Establishment

Dates

Comments





Fisgard

8 Aug.11 -
31 July 15

Shore training establishment, where he was trained as an engine room artificer (E.R.A.) He was training in Portsmouth at this time.





Victory II

1 Aug. 15 -
26 Aug. 15

A shore establishment often used for pay purposes. He may have been granted leave for this period as he had just finished his training program as an E.R.A.





Zealandia
26 August 1915
2 Nov 1916

Zealandia was a pre-Dreadnaught class of battleship that was initially attached to the third battle squadron of the home fleet. On 6 Nov 1915 she was detached from the squadron to take up service with the Mediterranean fleet where she remained until February 1916 when she returned to the home fleet.





Victory II

3 Nov. 16
5 Dec. 16

A shore establishment often used for pay purposes. He most likely was granted leave for this period.




Zealandia
6 Dec. 16 -
9 Feb. 17

Zealandia was in home waters as part of the third battle squadron. He is promoted to acting E.R.A. 4th class during this time.




Victory II
10 Feb. 17
8 Aug. 17

Part of this time might have been leave but most of it seems to have been a shore assignment, perhaps training, as he is promoted to full E.R.A. 4th class during this time.





Amphitrite

9 Aug. 17
31 Mar. 19

Amphitrite was a minelayer. She collided with the destroyer Nessus which sank 8 September 1918. Towards the end of this period Herbert married May Elizabeth Beatrice Bryant on February 19th





St. Vincent

1 Apr. 19
3 Dec. 19

This was a shore training establishment and Herbert was promoted to E.R.A. 3rd class at this time.





Courageous

4 Dec. 19
24 Feb. 19 1920

Courageous was a cruiser buily during WWI.





Victory II

25 February
1 March

probably a period of leave





Antrim

2 March 1919
28 July 21

The ship was in reserve by 1919, but conducted

radio

and

Asdic

trials

in 1920 before becoming a training ship in 1922.
During this assignment his son, Edmund was born.





Victory II
29 July 1921
14 Sept. 1921

A short period ashore -- perhaps leave or a short course





Renown

15 Sept. 1921
28 July 1922

Renown





Victory II

29 July 1922
5 Jan. 1923

A longer training period leading to his promotion the following year.





Victory XI (Leamington)

4 Jan 1923
9 Nov 1923

Leamington was a minelayer. During this period he was promoted to E.R.A. 2nd class





Victory II

10 Nov 1924
10 Aug 1926

It might be that this extended period was a training period during which time he was being trained for officer status. It appears he would have almost two years of training, followed by a month on Calcutta for practical training.





Calcutta

11 Aug. 1926
16 Sept. 1926

Calcutta was a C-Class light cruiser.





Victory II

17 Sept. 1926
30 Sept. 1926

This appears to be a short training period at which he was promoted to an Acting Warrant Engineer, an officer's rank and his later career is continued in the officer's section of the records.





.

In WWI
At the outbreak of WWI, on 4 August 1914, Herbert was a training to become an E.R.A. This was a four year course which he graduated from at the end of July in 1915. He was then assigned, as an E.R.A. 4 (4th class) to the Zealandia, a pre-dreadnaught class of battleship. This class of ship would have many E.R.A. 4's and would give him a position to learn his trade while having significant supervision and instruction to bring him from a classroom setting into an active part of the fleet. On the Zealandia he is initially given the acting rank of E.R.A. 4 and then, it appears, that after a short course he returns to the Zealandia as a full E.R.A. 4 which is the rank he attains during the war. This rank would have given him some responsibilities at a junior level in the engine room.

During the times that he was with the Zealandia she was assigned to the third battle squadron of the home fleet and also for a few months to the Mediterranean fleet. His service in the active fleets prior to the end of 1915 entitled him to the 1914 - 15 Star. As with others who served during the war he received the British War Medal and the Victory Medal.

Herbert's Medals from WWI
Serving from the outbreak of war, Herbert received the standard three medals that were awarded for such service (the
"Pip, Sqeak, and
Wilfred"
), namely the
| | |
| --- | --- |
| | |
| WWI medals (obverse) | WW1 medals (reverse) |
Later Military Service
With his promotion to officer rank, Herbert's assignments are recorded on the officer's service pages.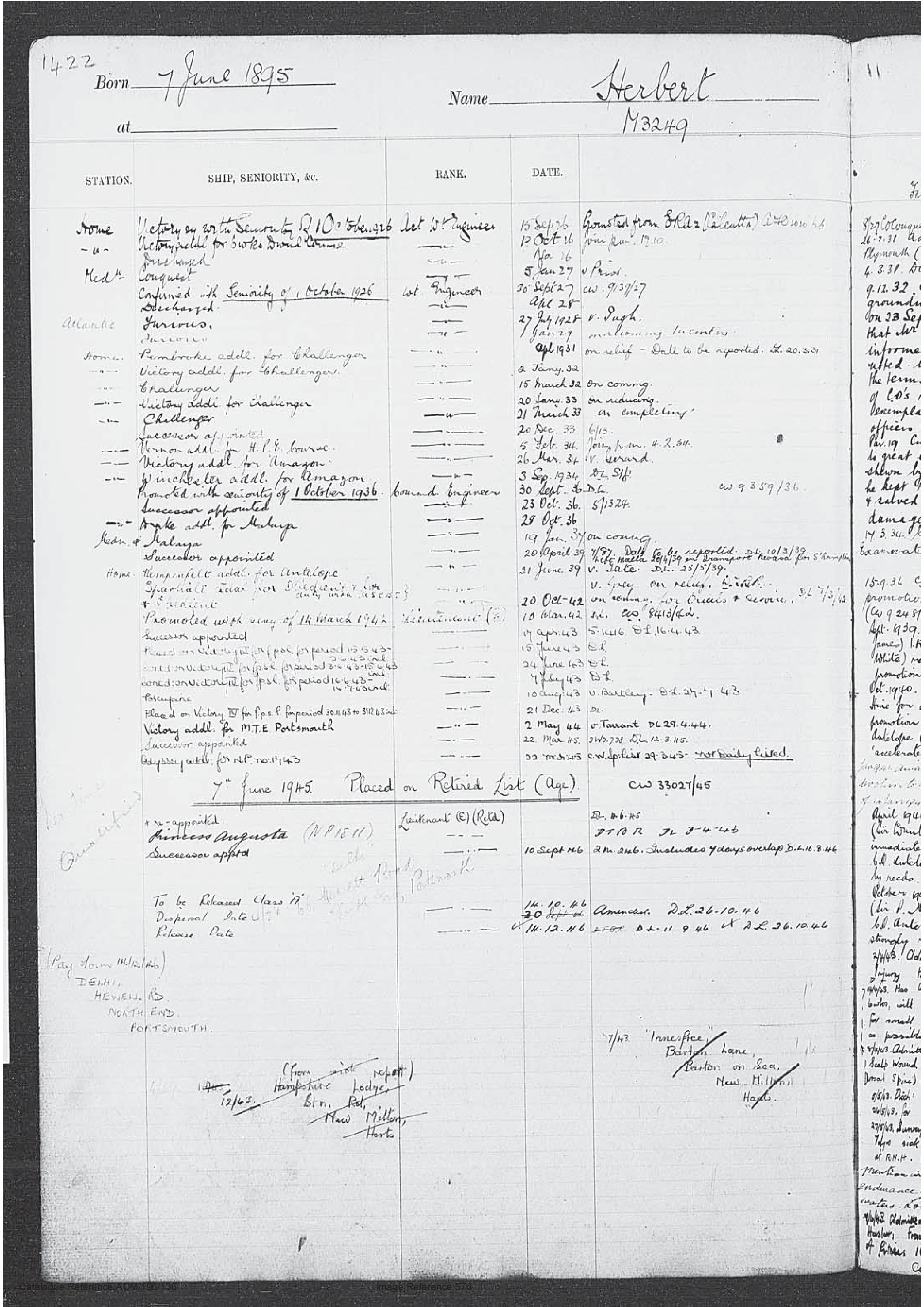 Between the Wars

promoted acting Warrant Engineer 15 Sept 1926 from E.R.A. 2 on the Calcutta
in the Med from 5 Jan 1927 on the Conquest
promoted Warrant Engineer 20 Sep 1927
On the Furious from 27 July 1928
On to Challenger 15 March 1932
On to Amazon 26 Mar 1934
On Malaya 28 Oct 1936
promoted Command Engineer 30 Sep 1936
On Antelope 21 June 1939
promoted Lieutenant (E) 14 Mar 1942
in WWII
Ships
Actions -- DSC., 1743

Medals from WWII
The medals earned by Herbert were never fully mounted as a set.
The complete set, when properly mounted would be in the following order (from center of chest to shoulder):
Member of the Order of the British Empire (Military Division)
Distinguished Service Cross
1914 - 15 Star
British War Medal
Victory Medal
Naval General Service Medal (with Palestine Clasp)
1939 - 45 Star
Atlantic Star
Defence Medal
War Medal 1939 - 45 with Mentioned in Dispatches Bronze Oak Leaf and France and Germany Clasp

[reference
Wikipedia
]
These medals (as they currently exist) are shown in the above order:













Member of the Order of the British Empire (Military Division)














Distinguised Service Cross


(the Mentioned in Dispatches Bronze Oak Leaf should not be worn on this medal -- see below)











World War I Medals:


1914 - 15 Star
British War Medal
Victory Medal








Naval General Service Medal (with Palestine Clasp)
1939 - 45 Star
Atlantic Star
Defence Medal
War Medal 1939 - 45 with Mentioned in Dispatches Bronze Oak Leaf and France and Germany Clasp

Family
Married on 2 February 1919
son Edmund born 27 August 1920
daugher Pamela birth registered in the first quarter of 1927

Retirement