| | | |
| --- | --- | --- |
| | Honouring | |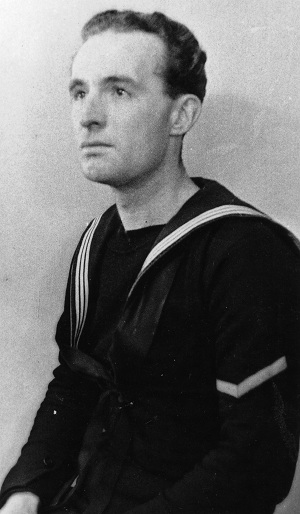 Samuel H. Groutage
P/JX271225
Royal Navy
Sam Groutage joined the Royal Navy on August 18, 1941. He trained as a Signalman at H.M.S. Royal Arthur at Skegness, Lincolnshire, England. His basic training consisted of an 18 week course of morse, semaphore, alphabetical signal flags and everything concerning signals. He passed his exams in December 1941. Sam was sent to Portsmouth Port Division Naval Base. His official number was P/JX271225 with a rank of Ordinary Signalman. He then was sent to H.M.S. Mercury at Petersfield on December 23, 1941 to await posting.
Sam was posted to H.M.S. Cormorant at the Gibraltar Naval Base on January 29, 1942. Served under Lt. Com. Paisley Tyler, who was Flag Lt. to Admiral (name forgotten) in charge of H.M.S. Cormorant. Whilst with the Cormorant served for a short time on the merchant ship "City of Bombay", a navy supply ship with English Officers and an Indian crew. His responsibility was to keep contact with the H.M.S.Cormorant. Later served under Admiral Andrew Cunningham as he was then, (later Admiral of the Fleet Sir Andrew Cunningham), when he was in charge of the preparation for and the actual North Africa Landings. In March 1943 Sam passed examination for Rank of Signalman. In January 1944 he returned to Portsmouth via 5 knot convoy (slow!!) to await new posting.






HMS Bamborough Castle was a Royal Navy Castle-class corvette.


She was launched at J. Lewis & Sons shipyard in Aberdeen, Scotland on 11 January 1944 and commissioned on 30 May 1944. She sank the U-boat U-387 on 9 December 1944 with depth charges whilst escorting the convoy RA-62 from Murmansk to Scapa Flow.

After World War II her career was mainly spent in the fleet reserve until she was scrapped in May 1959.
(sources: Wikipedia, Naval History Net)




In April 1944 Sam was posted to H.M.S. Bamborough Castle being fitted out in Aberdeen. This ship was under the command of Lt. Com. Magnus Work. In August 1944 Sam was granted his first good conduct badge. H.M.S. Bamborough Castle joined 6th escort group at Gourock on River Clyde. The group escorted a convoy of merchant ships carrying supplies to Russia across the North Sea/Norwegian Sea/Barents Sea to Murmansk. The Germans had blocked all supplies from entering Russia through its border with Europe. The convoys could only travel at the speed of the slowest of the merchant ships. U-Boats and bad weather make escort duty dangerous work. If a sailor survived a hit on his ship, and his ship went down, he then had to deal with the sea temperature. Sam says a man had approximately two minutes to get himself out of the water before the cold would get him. Sam did six consecutive convoy runs to Murmansk from 1944 to 1945. The Bamborough Castle sank U-Boat 387 in Kola Inlet outside Murmansk on December 9, 1944. Lt. Com Work received D.S.O. (Distinguished Service Medal) for this action. While on the Bamborough Castle Sam took the examination for Trained Operator Signals and passed. He left H.M.S. Bamborough Castle in January 1946 and was discharged from Royal Navy on March 16, 1946.
As one of the remaining Royal Navy seamen who served on the convoys to Russia Sam has been awarded commemorative medals of thanks from the former Soviet Union (President Gorbachev), and from present day Russia (President Putin). These medals are in addition to the British service medals he received at the end of the war.
Over fifty years later Sam still remembers his morse code!!!