Edmund Miles (1854 - 1922) and Lucy Ann Thomas (abt. 1868-1930)
Notes:
This page is posted as part of a project to trace all of the descendents of Edmund and Lucy. Any descendents are invited to contact the author:ken at kenscott.com. We are looking for more information on Edmund and Lucy: copies of certificates, photographs, biographical notes, etc.

This page is a work in progress; there may be errors and corrections are solicited.

Lucy
Lucy Ann Thomas, born in 1868, was the daughter of Morgan John Thomas and Margaret Vaughan. It is believed she was born in Mountain Ash where she was christened on 19 November 1868[5]. (In the christening record, her middle name is spelled 'Anne'). At the time fo the 1881 census Lucy Ann was living with her father and stepmother Ann at 20 Mount Pleasant Terrace. (There is a problem to be sorted ou here --)


Lucy apparently had an excellent voice. She sang alto according to her brother Edmund. The story is told that at some point she sang at the Crystal Palace in London with her daughter Hannah and that this might have been related to Queen Victoria's Jubilee. Hannah was born in 1899 and the last jubilee for Queen Victoria was in 1897; Queen Victoria died in 1901.So if she sang with Hannah would have to have been after about 1909 and would not have been for Queen Victoria. Perhaps they sang at the coronation of George V in 1911.


Her daughter Blodwyn wrote this about her mother: "My mother was born in Mountain Ash where she was buried. My mother's father was Morgan John Thomas, his wife was Margaret Vaughan. My mother's mother had a brother David Vaughan. He married a Sarah Thomas who was her father's sister, therefore a brother and a sister married a brother and a sister -- rather hard to understand. . . .My mother told me that her own mother died and her father remarried Mary Miles . . .who was a bar-maid in a local pub. . . . her brother was Edmund Miles . . . They [Morgan John Thomas and Mary Miles] had five children, three sons, two daughters. My mother told me she was cruel to my mother and her brother John. My mother ran away from home. Her father and her brother went looking for her. They found her, she was in domestic service, and took her back home. She was responsible for looking after her five step-brothers and sisters.. Her step-mother was not very workish. I don't know how it came about my mother was eighteen a good singer and a good looking woman. She married my father Edmund Miles who was fifteen years older than my mother."
Edmund
Edmund Miles was born 11 January, 1854[2] in Bedwelty, a mining town near the border between Monmouthshire and Glamorgan, near the Severn bridge. He was a son of Thomas Miles by his first wife Mary Evans. This copy of his birth registration was provided by David Vaughan.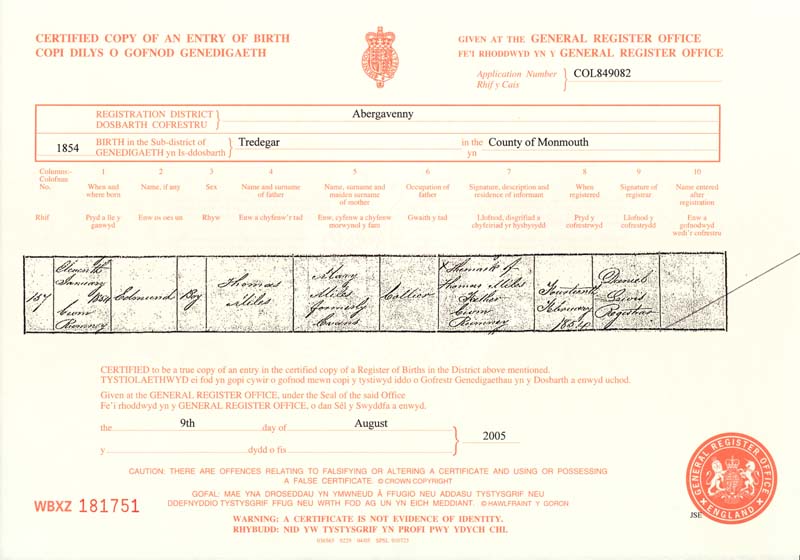 Birth Registration of Edmund Miles






In the registration of his birth the location of the birth is identified as Cwm, Rhymney. This is near Bedwellty which is where Edmund stated he was born in various census records.

By the time of the 1881 census, Edmund was living with his father and step-mother Martha Evans. There were five other children by this latter marriage.

There are no known photographs of Edmund. He was 15 years older than his wife Lucy Ann. His son Edmund recalled: "He worked in the mines from age of 8. He was a small man -- according to Lucy Ann he was strong. He got asthma at the end. He was was illiterate -- never schooled. The last thing he said to Edmund was "Look after and be good to your mother".

Edmund's daugher Blodwyn, late in life, wrote this about her father: "I only know his father died leaving his wife with five children, three sons, my father the eldest, eight years old and two younger daughters. My father never attended school. In those days you had to pay to go to school. My father went down the coal mine when he was so young eight years old to help to support the family. He was born in a different shire to my mother. It was Monmouthshire. . . .[my mother] told me he was a good husband for a while, but he too (like his sister Mary) did not care for work later on."
Marriage

Edmund Miles and Lucy Ann Thomas were married in the third quarter of 1888 in Bedwellty , Edmund's birthplace. Lucy Ann was 13 years younger than Edmund. They had a lage family. There were at least fifteen children born in the years between 1888 and 1908; of these three died in infancy and the remainder are listed in the table below.
Children of Edmund Miles and Lucy Ann Thomas[1]
| | | | | | |
| --- | --- | --- | --- | --- | --- |
| Name | Date of birth | Date/Place of Birth | Married to | Date of Death | Place of Death |
| Morgan John | abt 1888 | | Phoebe Davis | | |
| Thomas Emrys | 1st Qtr 1890[2] | Pontypridd[1] | | December 7, 1911 | Mountain Ash |
| Margaret Ann | 4th Qtr 1891[2] | Tonnypandy | Frank Wright | | |
| Ester Mary | abt 1892 | Pontypridd[1] | Walter Jenkins | | |
| Martha May | February 5, 1896[3] | Mountain Ash | William Charles Morgan | February 8, 1926[3] | Mountain Ash |
| William Llwelelyn | 2nd Qtr 1897[2] | Pontypridd[1] | | 1st Qtr 1903[2] | Mountain Ash |
| Sarah Ella | 4th Qtr 1898[2] | Pontypridd[1] | John Vaughan | | Toronto |
| Hannah Maud | November 19, 1899[3] | Pontypridd[1] | Joshua Henry Plank, Charles Jesse Croucher | March 28, 1986 | Bournemouth |
| Edmund Miles | January 01, 1904[3] | Mountain Ash | Edith Coles | Abt. 2004 | Toronto |
| Blodwyn | April 12, 1905[3] | Mountain Ash | Reginald Morgan | Abt. 2002 | Toronto |
| Annie | 4 Qtr. 1906[2] | Mountain Ash | Albert Ashton | | |
| Ivor | 2nd Qtr. 1909[3] | Mountain Ash | Rhoda, Marie | | Toronto |
We are fortunate in having two portraits of Lucy that have been preserved in the family

| | | | |
| --- | --- | --- | --- |
| | | | |
| Portrait of Lucy Ann Thomas about 1900. Original in possession of granddaughter Mary Northover | | | |
We do not have any photographs so far of Edmund; hopefully as this project progresses some will appear. We do however possess a photograph taken about 1912 (family lore states it was taken shortly after the death of Emrys) which includes Lucy and her younger children (perhaps because no photograph of Emrys existed).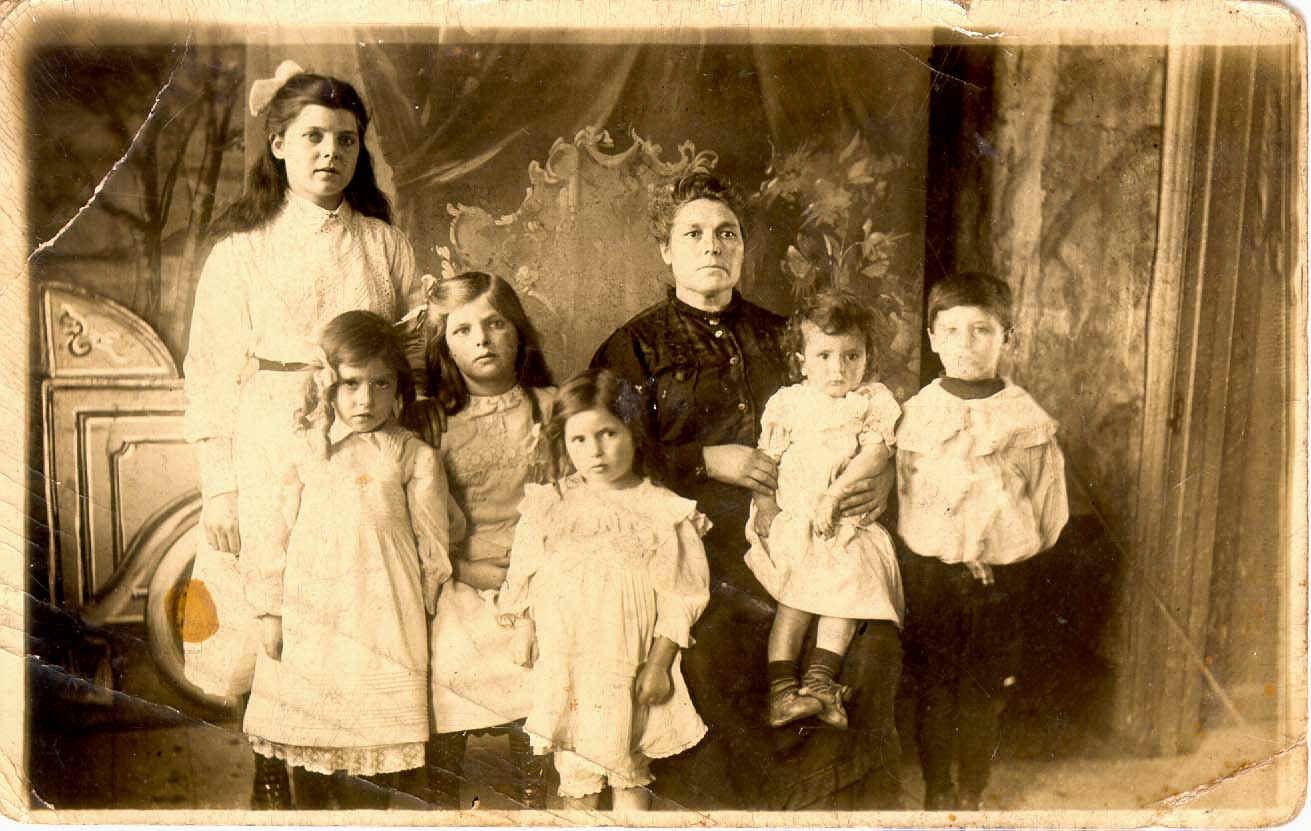 Martha May, Blodwyn, Hannah Maud, Annie, Lucy Ann, Ivor, Edmund
The photograph is interesting in a few ways. Missing of the younger children is Sarah Ella (always known as Ella). The family was poor and an English family took Ella in (see below for more details). We are told that the photographs was taken shortly after the death of Thomas Emrys in December 1911. This would make Ivor about 3 years old that might be about right. Edmund Sr. is not in the photograph nor are the three older surviving children Morgan John, Margaret and Ester.

Census Returns
Edmund appears in the returns of his father Thomas Miles in 1861 and 1881. He does not appear with them in 1871 and we have not found him elsewhere.



1891





1891 census of the Edmund Miles and Lucy Ann (Thomas) Miles family
1901



1901 census of the Edmund Miles and Lucy Ann (Thomas) Miles family
1911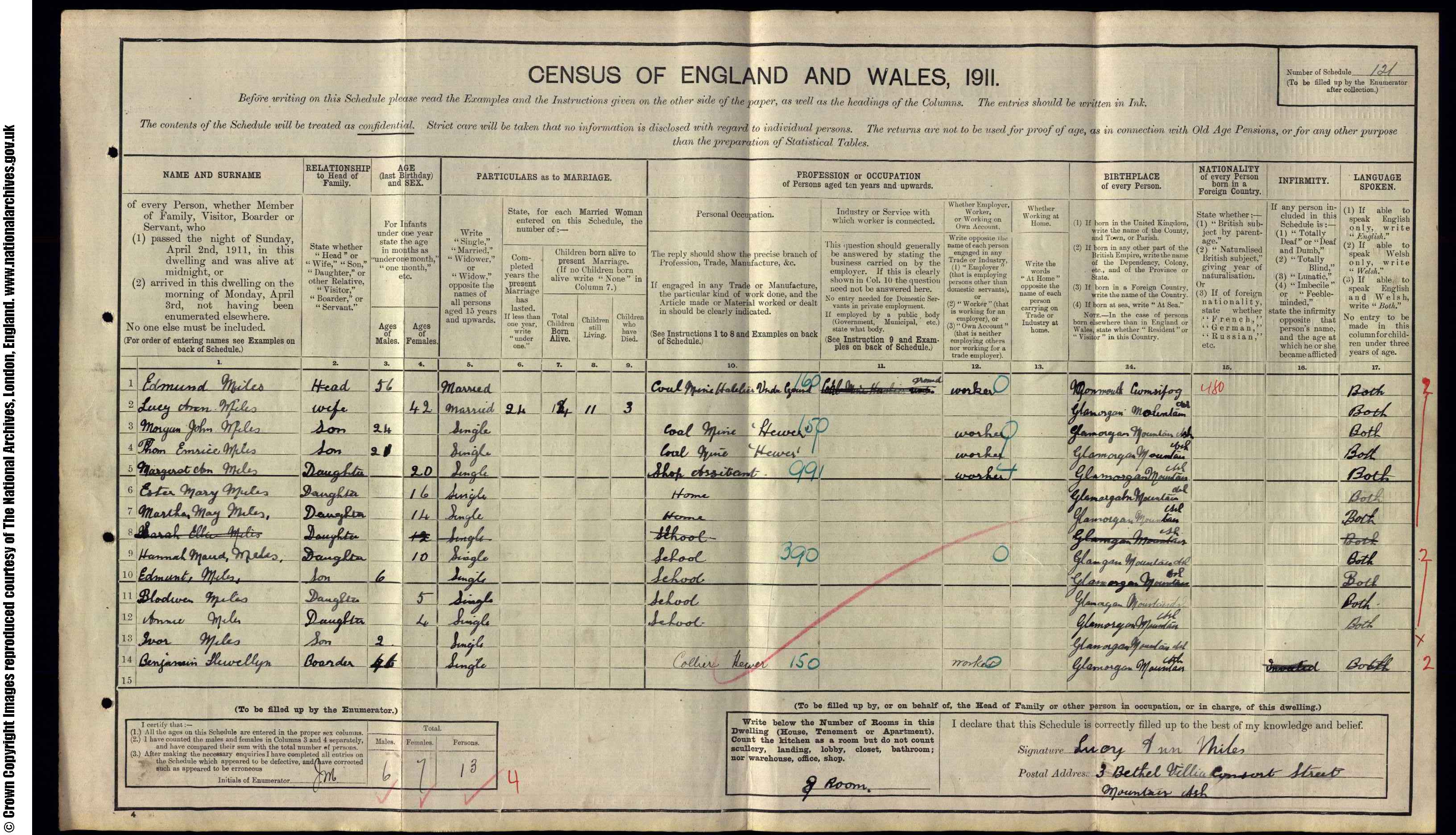 1911 census of the Edmund Miles and Lucy Ann (Thomas) Miles family
The census entries reveal interesting information about the family. Married in the third quarter of 1888, by 1891 they already had two children, Morgan John and Thomas Emrys. For Morgan John to be 3 at the time of the census he was born about the time of his parents marriage in the third quarter of 1888. We see that by 1891 Edmund and Lucy already have a boarder Benjamin LLewellyn who is single and living with them as a boarder in 1901 and 1911 -- essentially part of the family and halfway in age between Edmund and Lucy. The family grows over the two decades covered by the census returns above from the two children reported in 1891 to the eleven reported in 1911. However the 1911 census gives us additional information indicating that in their 24 years of marriage Lucy has born 14 children only 11 of whom are still alive. One of these is apparently William who appears on the 1901 census at the age of 4 but not on the 1911 census. We do not know the details for the other two children who are deceased in 1911. Thomas Emrys who is listed in the 1911 census dies later that year on December 1911. Another interesting item reported on the census is that all of the family speak both languages (Welsh and English). Another interesting item in the 1911 census is that Sarah Ella Miles, though initially listed, is crossed out. By this time Sarah Ella had moved in with the Jarvis family and appears with them as an adopted daughter (more on this when we write up Sarah Ella's biography).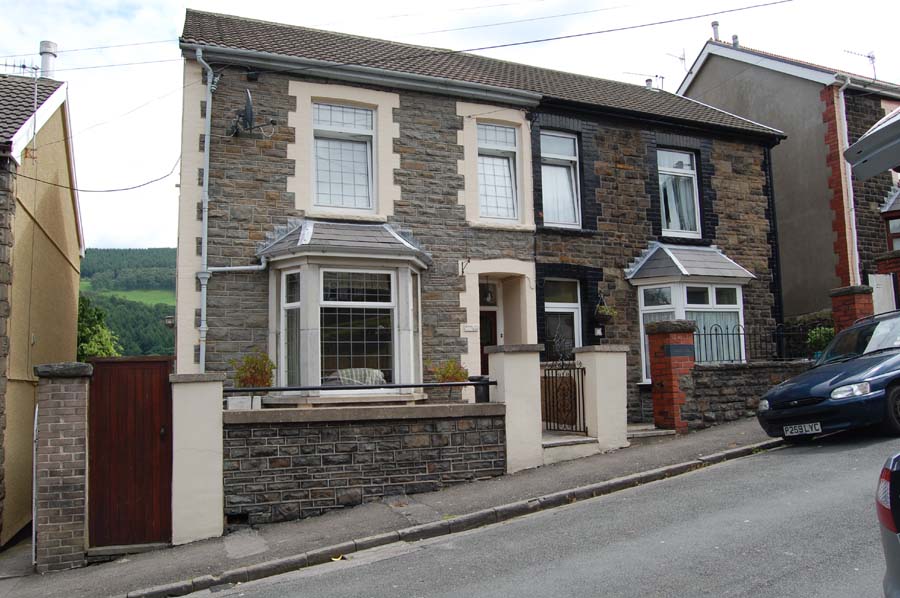 Bethel Villa is the left half of the duplex in this photograph taken in June 2008

Death and Burial
Edmund recalled that when [his father Edmund] died there was a big snowstorm in Wales . The date was 27 Mar 1922. The entry in the burial ground records at Aberdare reads as follows:
Burial Entry #3253, Maes-yr-arian Burial Ground in Mountain Ash

"Edmund Miles, 68 years, died 27 Mar 1922, Llanwanno, 52 Clarence St. Mountain Ash, re-open, buried April 1st at 4:30, Rev S. Morgan, person making burial is Morgan Miles, 52 Clarence St. Mountain Ash." The entry reveals that the grave already contained a body (Emrys) and so was re-opened. It also indicates that the oldest son Morgan Miles made the burial arrangements, and that he lived at 52 Clarence St. in Mountain Ash. It indicates, too, that Edmund died in his son Morgan's house.

Lucy Ann suffered a number of strokes during the 1920's after her husband's death. Her (by then orphaned) granddaughter Phyllis slept with her in the last few years of her life. Phyllis remembered, and was affected all her life, by the trauma of waking up one morning and finding that her grandmother was dead. Whether this is an actual event might be incorrect as the location from which Lucy Ann died was West Lodge and not the Clarence St. location. Lucy's funeral was well attended as shown in the following obituary note that was published in a local paper. (Note: The obituary is helpful in this Miles Family Tree project for the identification of family members and their locations)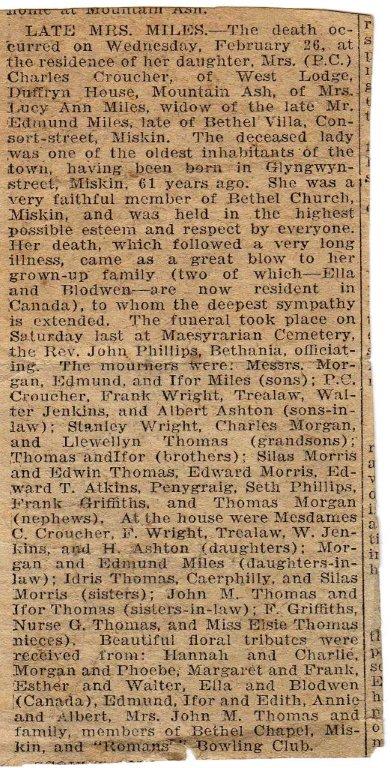 The Obituary Notice for Lucy Miles
The entry for Lucy's burial reads is below.
Burial Entry #5119 Maes-yr-arian Cemetery, Mountain Ash

"Lucy Ann Miles, 61 years, Widow, died 26 February 1930, West Lodge, Mountain Ash, Llanwanno, Reopen, grave # 112, buried 4:30 p.m., 1 March 1930, Rev. John Phillips, E. Miles, 74 Consort St. Mountain Ash." Here we see that the son, Edmund has made the burial arrangements for his mother.

Also buried in this grave (indeed before either of his parents) was their sonThomas Emrys who died in 1911. The entry for his burial is below.

Burial Entry 513 Maes-yr-arian Cemetery, Mountain Ash

Thomas Miles, 21 years, Collier, died 7 Dec. 1911, 3 Bethel Villas, Consort Street, Mountain Ash, Llanwanno, Ordinary, grave #1124, buried 4:15 Dec 12, 1911, Rev. L. Bevan, The mark of Edmund Miles, 3 Bethyl Villas, Consort Street, Mountain Ash.

(Note: These transcriptions (made by great grandson Kenneth Scott) may be inaccurate as the grave they were buried in was one while the recorded transcriptions have different numbers.)
In the period preceding her death, Lucy suffered one or more strokes. In the cramped conditions of that time her granddaugter, Phyllis May Morgan slept with her. On the morning of February 26 when Phyllis awoke, her grandmother did not; Phyllis felt the emotional shock of this the rest of her life.
| | |
| --- | --- |
| | |
| The headstone of Edmund and Lucy. The grave also contains the body of their son Emrys. We note that the date of death for Edmund is not correct. He died on March 27, 1922. The stone was erected many years later by some of his descendants and either they, or the monument company, made the error. | The grave of Edmund and Lucy. This photograph was taken about 1998 shortly after some grandchildren had arranged for the grave site to be cleaned up. |
Sources:
[1] The registration district is Pontypridd; The registration subdistrict is Llanwanno and the event probably was in Mountain Ash
[2] FreeBMD website. This website gives online access to the birth, marriage and death registrations in the U.K. These registrations are indexed by quarter from 1837 onwards. Not all records yet appear on the site.
[3] Information provided by a family member or registration document.
[4] Photograph by great grandson Kenneth Scott in 2008.
[5] IGI of the Church of Jesus Christ of Latter Day Saints (available at http://www.familysearch.org/)
[6] Copy of obituary notice provided by granddaughter Mary Northover

---
Acknowledgements:
Many members of the Miles family have contributed to this compilation. In addition the FreeBMD, the LDS.org and FindMyPast.com websites have provided much data.

published 2008, revised 2010, 2012
© Kenneth Scott and others 2008, 2009, 2010, 2011, 2012