Sarah Ella Miles (1898 - ?) and John Vaughan (abt. 1882-?)
Notes:
This page is posted as part of a project to trace all of the descendents of Edmund Miles and Lucy Ann Thomas. Any descendents are invited to contact the author: 'ken at kenscott.com'. We are looking for more information on Ella and her husband John : copies of certificates, photographs, biographical notes, etc.

This page is a work in progress; there may be errors and corrections are solicited.

Ella
The birth of Sarah Ella Miles was registered in the fourth quarter of 1898 in the Pontypridd Registration District.

Birth Registration of Sarah Ella Miles

John
John was born about 1882






Birth Registration of John Vaughan








Marriage
John Vaughan was married at least once before he married Sarah Ella. On June 24, 1902 he married Jane Rees at the Registry office in Potypridd. In the landing record for the family in Canada (see below) we learn of the following children by this previous marriage.

Children of John Vaughan and his first wife[1]
| | | | | | |
| --- | --- | --- | --- | --- | --- |
| Name | Date of birth | Date/Place of Birth | Married to | Date of Death | Place of Death |
| David John | | | | | |
| Trevor | | | | | |
| Camille | 1910 | Miskin | | | |
| Edna | May 7, 1919 | Miskin | | August 1921 | Miskin |
| Olive | 1911 | Miskin | | | |
| Emrys | 1914 | Miskin | | | |
| May | 1916 | Miskin | | | |
Sarah Ella Miles and John Vaughan were married October 16, 1920 in Llanwanno. That may be the registration sub-district as opposed to the actual church in Llanwanno, although Blodwin describes a wedding from Mountain Ash that appears to have been at the Llanwanno church.

There were at least seven children born in the years between 1921 and 1923. These are listed in the table below.

Children of Sarah Ella Miles and John Vaughan[1]
Name
Date of birth
Date/Place of Birth
Married to
Date of Death
Place of Death
Muriel

1921?
Mountain Ash

Victor Dale

1995?



Marjorie

1923?
Mountain Ash
Jack MacMillan

2008?



Dorothy

1924?
Mountain Ash
Kenneth Wilkinson





Lucy

1928?
Mountain Ash
Robert Waterhouse





David John

1 September 1929

Toronto

Mary Susanne Clark
Audry





Edmund

1933?
Toronto
Grace





Robert

1934?
Toronto
Deana Johnson





Census Returns
1901



1901 census of the Edmund Miles and Lucy Ann (Thomas) Miles family
1911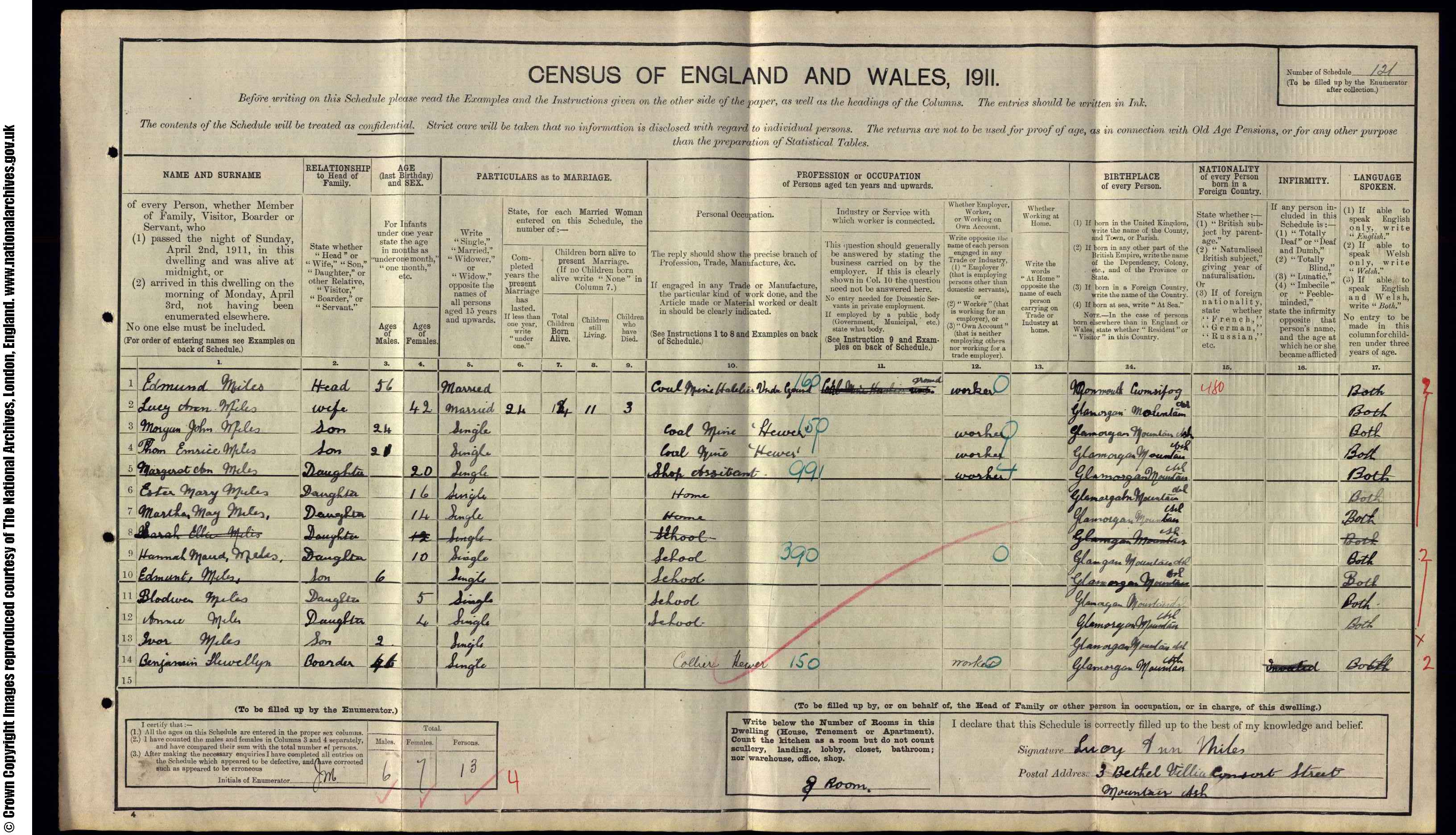 1911 census of the Edmund Miles and Lucy Ann (Thomas) Miles family
This entry in the 1911 census is interesting in that Sarah Ella Miles, though initially listed, is crossed out. By this time Sarah Ella had moved in with the Jarvis family and appears with them as an adopted daughter.We see this in the following entry for that family.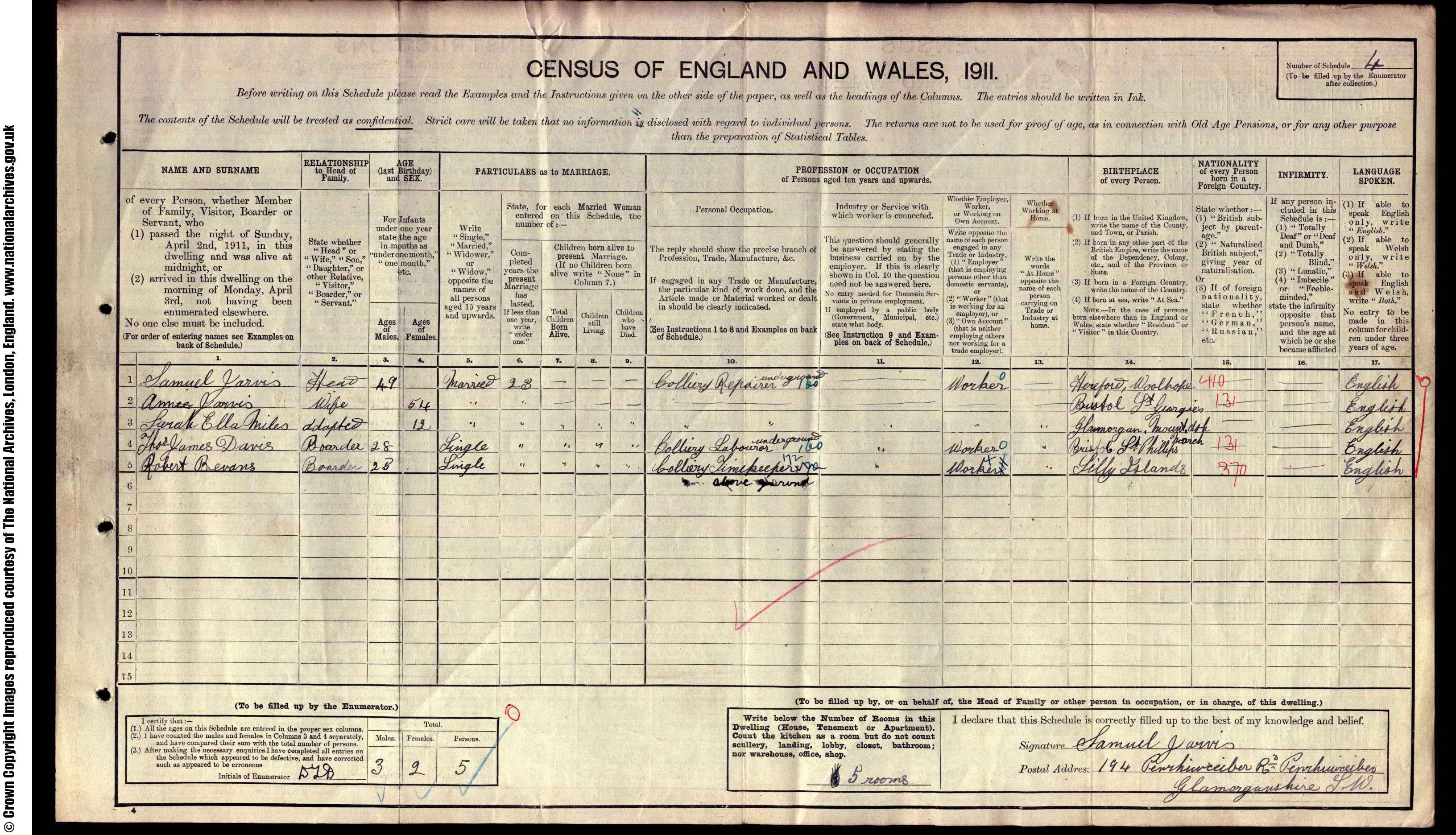 1911 census of the Samuel Jarvis family
In this family entry we see that Samuel and Ann(ie?) Jarvis habe been married for 23 years but have no children other than an 'adopted' daughter, Sarah Ella Miles. There are also two boarders living with the family in Penrhiwceiber, which is less than a mile from Mountain Ash, towards Abercynon. Samuel is a Colliery Repairer which was a somewhat higher level position than a miner. Although the census states that Ella is an adopted daughter, that was never a formal adoption in the current and legal sense of the word.

Ella's younger sister Blodwin wrote this about the arrangement:

"Sarah Ella who went to live permanently with a neighbour of her step sister. Ella was eight and did most of the work of the home, comprising of Me. and Mrs. Jarvis an English couple from Bristol England & two borders. She resided there from age eight to age nineteen. She did not seem like a sister, although they said, she visited my mother every day after school. My mother I believe was very sorry she ever let her go there. Ella attended an English church, the rest of the children when to the Welsh church."
Married Life
Emigration to Canada
In 1926 the Vaughan family emigrated from Wales to Canada, settling in Toronto. The following is an image of the landing record for the ship Regina which lists the family.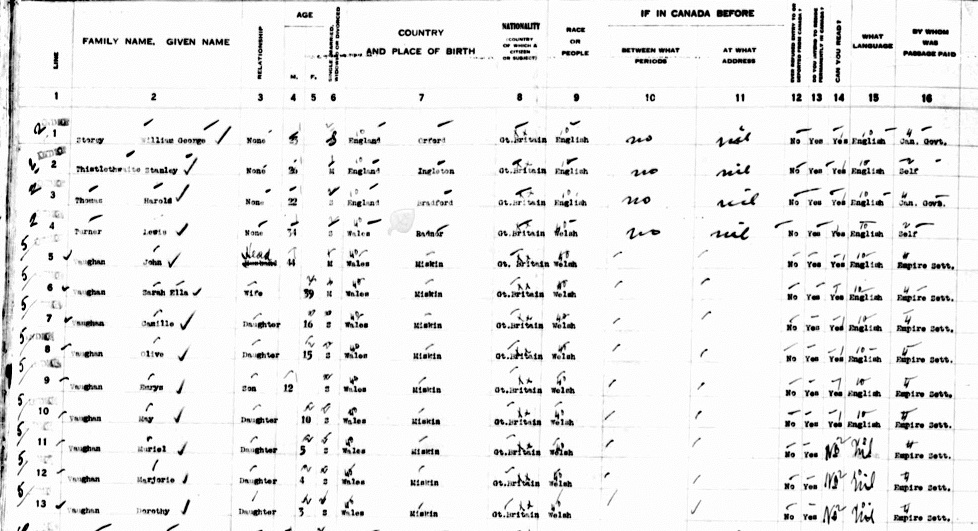 This landing record shows the seven children (four by a previous marriage) that accompanied John and Ella on their trip to Canada. We see that the passage was paid by "Empire Sett.", a program for immigrants to Canada that I need to research.

Death and Burial
Sources:
[1] The registration district is Pontypridd; The registration subdistrict is Llanwanno and the event probably was in Mountain Ash
[2] FreeBMD website. This website gives online access to the birth, marriage and death registrations in the U.K. These registrations are indexed by quarter from 1837 onwards. Not all records yet appear on the site.
[3] Information provided by a family member or registration document.
[4] Photograph by great grandson Kenneth Scott in 2008.
[5] IGI of the Church of Jesus Christ of Latter Day Saints (available at http://www.familysearch.org/)
[6] Copy of obituary notice provided by granddaughter Mary Northover

---
Acknowledgements:
Many members of the Miles family have contributed to this compilation. In addition the FreeBMD, the LDS.org, Ancestry.com and FindMyPast.com websites have provided much data.

published 2012
© Kenneth Scott and others 2012