Theophilus Miles ( 1871 - 1933) and Martha Jane Williams (1875 - 1957)
This page is a work in progress -- please contribute whatever you can!

Birth of Theophilus
Theophilus was born on 28 February 1871, the son of Thomas Miles, a coa miner, by his second wife Martha (Evans) Miles in Cwymfod Bedwelty, Monmouthshire. On his birth registration we see that Thomas was illiterate to the extent of not being able to sign his name.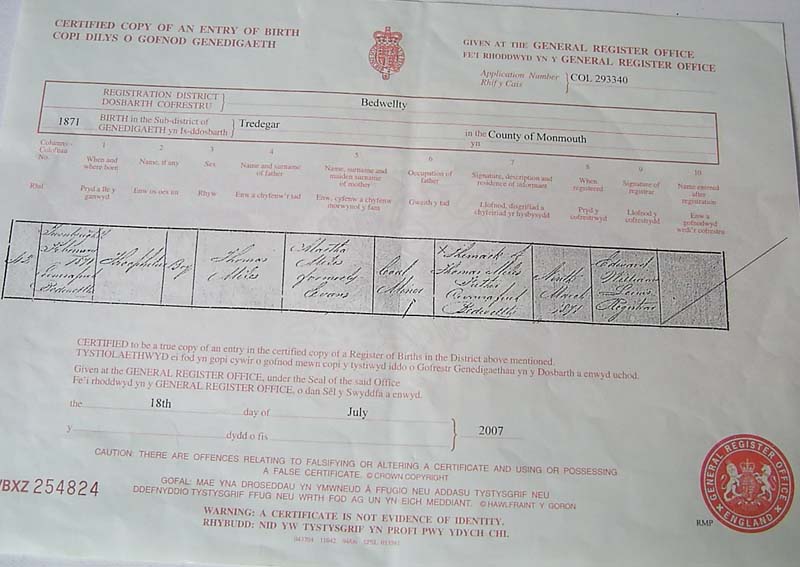 Birth of Martha Jane
We have not yet determined where and when Martha Jane was born

Marriage of Theophilus and Martha Jane
Theophilus and Martha Jane were married in the parish church of Galligaer, by Banns, on 26 June 1893. Both of their fathers are listed as colliers on the marriage certificate. Theophilus at the time was 23 and Martha Jane 18. At this time Theophilus was a haulier.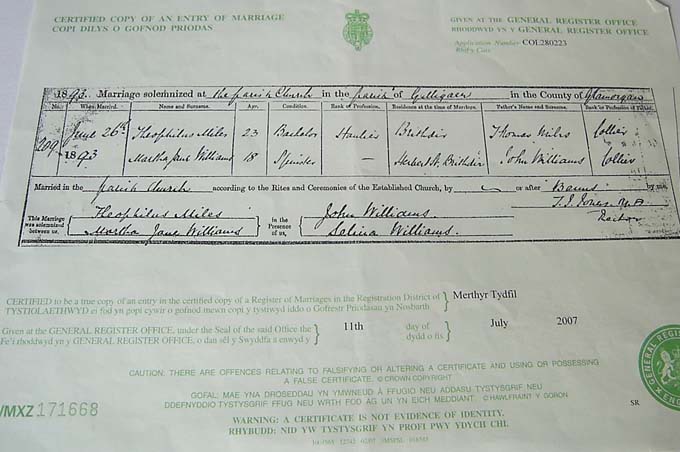 Family of Theophilus and Martha Jane
In the 1881 census of Wales we find Theophilus living with his family on Railway Row in Bedwellty, Monmouthshire:
| | | | | | | |
| --- | --- | --- | --- | --- | --- | --- |
| | Rel: | Marr | Age | Occ: | Sex | Birthplace |
| Thomas MILES | Head | M | 51 | Coal Miner | M | Mynyddislwyn, Monmouth, England |
| Martha MILES | Wife | M | 38 | | F | Pembroke, Wales |
| Edmund MILES | Son | U | 26 | Coal Miner | M | Monmouth, England |
| William MILES | Son | U | 15 | Coal Miner | M | Bedwellty, Monmouth, England |
| Thomas MILES | Son | U | 12 | Coal Miner | M | Bedwellty, Monmouth, England |
| Theophilus MILES | Son | U | 10 | | M | Bedwellty, Monmouth, England |
| Seth MILES | Son | | 7 | | F | Llananevo, Glamorgan, Wales |
| Sarah MILES | Daur | | 7 | | F | Bedwellty, Monmouth, England |
| Henry JONES | Grandson | | 1 | | M | Llanwonno, Glamorgan, Wales |
Source: FHL Film 1342262 PRO Ref RG11 Piece 5244 Folio 83 Page 45. He is living with 5 siblings and one nephew. His sisters Lucy, Mary and Margaret have left home (or died) by this time

Blodwyn (Miles) Morgan, his granddaughter has left the following description of this family: "My father was Edmund, brothers Thomas, Theo. I cannot remember the sisters names. One sister Mrs. Atkins"

1891 Census of Wales
Inn the 1891 census Theophilus is still living with his parents but is now a coal miner.



1891 Census Image: Family at #85 George Inn Cottages, Gelligaer, Glamorgan. PRO Ref RG12/1443 Folio 118, Page 15
Their Lives and Interests
A biography of Martha Jane Miles by Jill Garner, a great granddaughter

Martha Jane Miles or 'Mam Miles' as she was affectionately called, was born about 1875 most probably in Brithdir, near Bedwelty and Gelligaer in South Wales. I have been told that there were 35 families called Williams in Brithdir at that time. On 26th June 1893, aged 18, she married Theophilus Miles. At the time both were living in Brithdir, Mam Miles in Herbert Street. Witnesses at the wedding were John Williams (probably Father) and Selina Williams (possibly Mother or Sister).

Whilst I was on a visit to Brithdir, I met a 93 year old lady called Mrs Dando, who remembered the family and recalled that Mrs Miles on occasions had to carry home her husband from the pub. Family legend has it that she used to roll him home in a barrel.

Mr and Mrs Miles had at least 9 children, although it is thought that she had a few more who were either still born or died soon after birth. Mam Miles outlived all but 3 of her children.

Around 1910 the Miles family relocated to Penrhiwceiber, probably in Woodfield Terrace. This is where Martha Jane and Theophilus are buried, in the local churchyard and where her heart was. We believe that family members relocated from 'ceiber' around 1928 to Bournemouth, in order for the women to obtain employment in local hotels as the men were struggling to find work. Mam Miles came to live in Muscliffe Road, Winton, Bournemouth with some of her children after 1933 when Theophilus died. When my own mother's mother died in 1945, she moved into Muscliffe Road to reside with her Grandmother and Uncles Trevor and Willy John. She remembers Mam Miles as a very jolly little lady, always baking delicious pies and cakes. She was the heart of the family and much loved. She passed away aged 81 whilst wallpapering the front room at Muscliffe Road in 1957.


| | |
| --- | --- |
| | |
| Martha Jane Miles with baby (possibly in the 1930s) | Martha Jane Miles (possibly in the early 1950s) |
Two Photographs of Martha Jane (Williams) Miles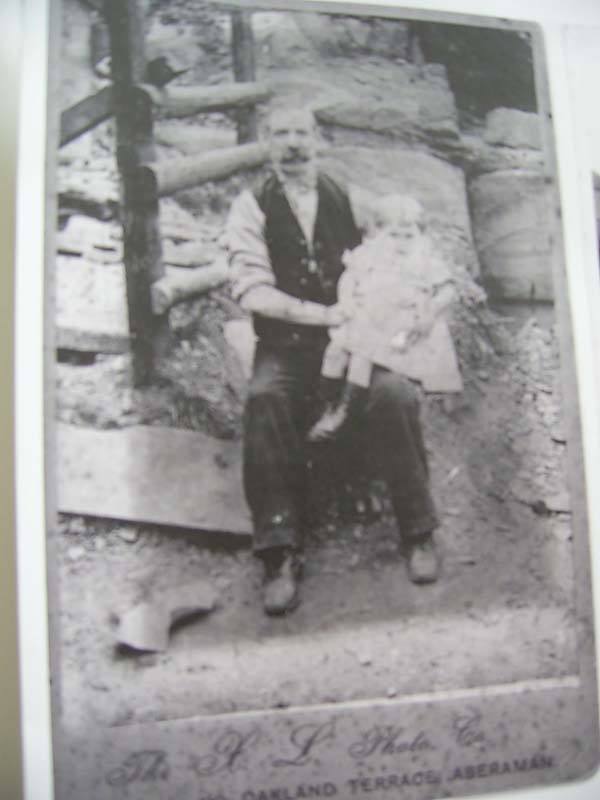 Theophilus Miles, date and child unknown
Deaths and Burial
Gravestone of Theophilus Miles, his wife Martha Jane Miles and their daughter May

---
©Kenneth Scott, Jill Garner and others
5 July 2009