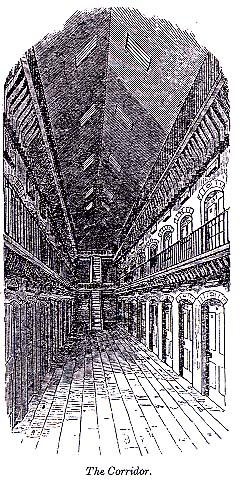 THE PROBATIONARY WARD is a great improvement upon the original system for the reception of Boys on their first arrival. This division of the building consists of THE CORRIDOR, with three tiers of cells, 137 in all; each being 11 feet by 7 feet, and 8 feet 6 inches high, brick arched, and provided with a hammock, of coca-nut fibre, shown in the engraving of THE CELL, rolled up and laid on a shelf in the corner, to the right of the door; at night it is stretched with straps from wall to wall and fastened with cleats, 15 inches from the floor. Each Cell is furnished with a small table, stool, and writing-desk; a Bible, Prayer-book and Hymn-book, for Chapel use; school books, slate and pencil; and upon the wall of the Cell are placed the Morning and Evening Hymn cards with prayers, and copies for writing; by the side of which is an iron holdfast candlestick, to receive a "Palmer's candle". immediately over the door-way, is an iron plate for the admission of fresh air, from the Corridor; and in each door is an inspection-plate, of glass and iron wire-gauze, 4 inches by 3. There is, also, a spring-bell, which the Prisoner is to sound when he requires the attendance of an officer; there being affixed to each bell an iron plate inscribed with the number of the Cell, indicated, as the bell rings, to the officer in the Corridor.
The Prisoners in this Ward take their meals in the separate Cells, from which they are only allowed to absent each day, 1 1/2 hours for exercise; 2 1/2 hours in school; half an hour cleaning; and half an hour in the morning, in chapel for prayers..THE CORRIDOR as shown in the Engraving, is surrounded with galleries and flights of steps leading to the upper tiers. In the basement are tow Dark Cells for punishment, and two Baths for the Ward. There are washing-rooms to each gallery , with separate compartments, so that the Prisoners cannot communicate with each other. There are, also, two water-closets on each floor, for night use.
Instruction is given in each Cell according to the knowledge possessed by the Prisoner on entering; when not otherwise employed, he is to work at tailoring, shoemaking, or other occupations; so that he is not allowed to be a moment idle.