The Family Life of William Scott (1856 - 1906)
Related Topics:
William Scott's early childhood and career as a sailor
William Scott's career as a prison warder
William Scott's wife Mary Jacobs.
Marriage:
William left the sea for life as a Prison Warder in November of 1854. It was only about 20 months later the he was married to Mary Jacobs.
We do not know where William met Mary. She was born in the town of Westbourne, Sussex. This town is about seven miles from where the prison was located in Portsmouth, Hampshire. Her parents were employed as farm workers in Westbourne. She had been born there 5 April 1834 and was christened at the Westbourne church. She was one of at least six children with at least three older siblings.
She might have been working in Portsmouth, perhaps as a servant, or she might have been in Westbourne. They could have met at a fair or some other event. In any case the short distance between the two places was an easy kind of walk, in the event that public transportation was not available. People in those days thought nothing of a 10 mile walk.

Marriage Record of William and Mary: A scan of a copy from a microfilm, just barely legible
William and Mary were married in Westbourne, by banns, on August 3rd, 1856. The marriage certificate gives some usual information but also adds some interesting additional information. William is identified as a bachelor and Mary as a spinster. His occupation is given as "H.M. Dockyard, Portsmouth". His residence is given as Portsea and hers as Westbourne -- but that would have been necessary for marriage by banns at that church and it may just be that her parent's address was used. The fathers' names are given: William Scott and Joseph Jacobs. William Sr. is identified as working at "H.M. Dockyard, Portsmouth" and Joseph as being a Labourer. We know that both Williams were prison warders and that at least William Jr. was a warder at the Portsmouth Prison. It is likely that they both were and that the designation placed on the certificate by the minister was not in dispute of that fact. Also of interest on the certificate is the fact that both William and Mary sign their names. Interestingly the two witnesses are Joseph Jacobs and Martha Jacobs. It is quite likely that Joseph, the father was illiterate, and that the signature is that of his son, also named Joseph.
One of the interesting things about weddings is that it brings families together and in particular brings the friends of the bride and groom together. It is not unusual for such events to lead to weddings between members of the wedding party. While we cannot be sure this is how it came about, we do know that on Boxing Day, 26 December, 1856, William's younger brother John married Mary's younger sister Martha. This is the case known to many in the family (but not always correctly placed) of two brothers marrying two sisters. Unlike William, John was not a prison warder, but rather a carpenter/joiner, possibly the influence of his mother's side of the family who we believe were carpenter/joiners. By 1861 we find that William, Mary, John and Martha are sharing a house at 49 Nile Street.
William and Mary started out on their family life, their first address likely being 7 Gloucester Street, Portsea. This is about 1/6th of a mile from where H.M.S. Victory now rests in drydock. Photography was just starting to become popular in the 1850's (the first daguerreotype was only produced in 1839). It was something that was done in a studio and most photographs were only of one person. William's sister Mary Ann was, by this time, working as an assistant in a photographer's shop and it may be because of her influence that we are fortunate in having some photographs of William and Mary that we can tentatively identify as being from that time period.
| | |
| --- | --- |
| | |
| Mary (Jacobs) Scott, estimated to have been taken about 1860, when in her late 20's | William Scott, estimated to have been taken about 1856, when he was 23 |
My sense is that the above photograph of Mary was taken after she had had at least one child and so I put the photograph down to having been taken about 1858-1860. In contrast the photograph of William is one that shows a young man probably not yet 25 five and it may well have been taken shortly after he joined the prison service and prior to his marriage in 1856.
Raising a Family
William and Mary quickly started a family. On 10 May 1857 they had their first child, a son they named William born at the Gloucester Street house. In those days infant mortality was relatively high; William died within 12 days on 22 May. The cause of death is recorded as "Convulsions 2 days certified" (the "certified" implies that a doctor was in attendance and signed the death certificate). John and Martha were equally quick in starting a family; their first son John was born 29 October 1857.
One of the documents that has survived in the family is a copy of a page from a Bible which lists the children's births by name and date. We are fortunate in having this copy for, without it, we would probably not know of the William and other siblings who died as infants. We see for the children that the next born was Mary Ann Scott, on the 8th of July, 1858. Sadly, Mary Ann, too, died as an infant with cause of death being "Convulsions consequent upon Brain Fever, Certified". Her date of death was 21 October 1858. Knowing of the children's birth dates it was possible to obtain copies of their birth registrations and to search for their deaths (since the children did not appear in the family records at later times).
After these two pregnancies and deaths it was only a few months later that Mary again became pregnant. On 15 February, 1860 she delivered two sons, Walter and Charles. Walter was born at 10:45 a.m. and Charles at 11.55 a.m. (when twins were delivered the time of birth, as well as the date, was recorded -- we had Walter's birth certificate and so knew he was a twin, but did not at first know the twin's name). This pregnancy was more successful. Walter would survive and become an adult. Charles was not so lucky and he died five days later, cause of death "Convulsions 2 days, Certified". These births and that of Mary Ann were both at 49 Nile Street in Portsmouth.
It is not easy to gain an appreciation of the family life of William and Mary at this time and during the 1860's. However some information is available and it helps to fill in the picture. By 1861, John and Martha were sharing the house at 49 Nile Street with William and Mary. At this time their second son Frederick was counted as being in the home, also. The older son John, on the day of the census was with his grandparents, William and Mary [nee Hyder] at their home in Woking where the older William was serving as a prison Warder. On 4 July 1863 William and Mary had their fourth child, Elizabeth Marion. She was followed on 27 August 1865 by Sydney George and later on 19 January 1869 by William Joseph Scott, who was named after both his grandparents. Obviously, William and Mary, now with four children under 10 years of age, had their hands full!
However they were not alone in their community. Family abounded. William's sister Mary Ann Scott (after whom William and Mary had evidently named their first child -- with some deference, also to Mary) lived in the area and worked in a photographer's studio. As a direct result of this we have a very complete photographic record of the family about this time. Sometime between 1859 and 1864 she married George Cole and by him had a son George in April 1864. John and Martha were in the area for at least part of this time, John working as a carpenter, until he, too, joined the Convict Service as a Warder. By 1865 he was working as a warder at Woking when his daughter Isobel was born. As mentioned earlier the father William was a warder there by the time of the 1861 census and he seems to have helped John move from his trade as a carpenter to a job as a warder.
On the Jacobs side, just a few miles away were the Jacobs family with their several siblings of Mary. We do not know much about the Jacobs, but at this time they were both alive. "Granny" Jacobs (Ann (White) Jacobs) reportedly lived to be 100 and I do find her in the 1881 census at the age of 77 being described as head of the house and a labourer(!), in Westbourne. She has two sons and two grandchildren living with her -- times have not changed all that much. So, between bearing and raising children, Mary was undoubtedly fully occupied. William, on the other hand, while a father, was also busy working on his career. He was well regarded in his work and by 1869 had become a Senior Warden and was transferred, probably about that time to Parkhurst Prison on the Isle of Wight.
Census 1871
William and his family appear in the 1871 census of England at Parkhurst Prison on the Isle of Wight. The following table is a partial extract of the information from that census
| | | | | | |
| --- | --- | --- | --- | --- | --- |
| Name | Rel: | Sex | Age: | Occ: | Birthplace |
| William SCOTT. | head. | M | 38. | Principal Warder. | Woolwich, Kent. |
| Mary SCOTT. | wife. | F | 36. | | Westbourne, Sussex. |
| Walter SCOTT. | son. | M | 11. | | Portsmouth, Hants. |
| Elizabeth M.SCOTT. | dau. | F | 7. | | Portsmouth, Hants. |
| Sydney Geo. SCOTT. | son. | M | 5. | | Portsmouth, Hants. |
| Wm. Joseph SCOTT. | son. | M | 2. | | Portsmouth, Hants. |
Source: 1871 CENSUS RG10/1164. folio 121. page 2. Parkhurst Prison (courtesy Ann Barrett)
In addition to William and Mary we see that all known children who survived infancy are at home, with Walter, the eldest, now being 11 years old.
The Death of Mary
We again have little information on the move to the Isle of Wight and on the daily lives of William and Mary as a result of the move. William and Mary were definitely at Parkhurst in the spring of 1871 when the census was taken. We see them there with their four children, Walter, Elizabeth, Sydney and William Joseph. However life was not good for William and Mary after their arrival at Parkhurst. By 1872 Mary was ailing and she died in 1873 of hepatitis and 'dropsy' -- an edema caused, probably, by kidney failure.This left William to raise four children under the age of 13. Mary's life, many photographs and death information are on another page.
We cannot tell at this time what arrangements William made to look after the children. However of some things we are sure. Thirteen was not considered childhood in those days. William, himself, was at sea at that age. Walter at age thirteen was working as a baggage handler on the railroad in Portsmouth (we have a letter of reference that has survived testifying to this). This left William with the three children to look after. It is fairly clear that Elizabeth, now 10, would have taken some of the burden of raising Sydney and William Joseph. What other immediate arrangements were made we know not. Photographs of these people are available during childhood and at later stages in their lives. Generally, with the exception of a couple of photographs of Walter and Elizabeth together, these photographs are of just one person, as was typical in that time period and so we will present them in the context of their life stories.
Photographs of William during 1852 - 1883
| | | |
| --- | --- | --- |
| This is William as a sailor, probably during his last year in that career -- about 1853 - 1854. | William, as a young man, probably about 1956 - 60 | We are incredibly fortunate to have the very complete range of photographs of William in his lifetime. One should remember that photography did not start until 1839. Only in the 1850's did studio photographs become relatively common and affordable. William's sister Mary Ann worked in a photographer's studios -- it is doubtless as a result of her work that we have such photographs. These photographs were preserved by William's son Walter and by his daughter Lillian. Lillian bequeathed these photographs to her daughter Iris who supplied them for this biography of William's life. |
| This photograph was taken in Portsmouth. his beard does not appear to include any gray and so we conclude it was probably taken prior to the photograph at right -- perhaps about 1865. | This photograph is not easy to 'read' -- it appears that William is more gray haired than on the left. My guess is that it was taken about 1870 | This photograph may have been taken about the time that William became a Principal Warder at the age of 38 in 1869. |
The Children
Details on the children of William and Mary are listed below:
| | | | |
| --- | --- | --- | --- |
| Name | Birthdate | Date of Death | Born at |
| William | 10 May 1857 | 22 May 1857 | Portsea, Portsmouth, England |
| Mary Ann | 8 July 1858 | 21 October 1858 | Portsea, Portsmouth, England |
| Walter | 15 February 1860 | 17 June 1936 | 49 Nile St, Portsea, Hants |
| Charles | 15 February 1860 | 20 February 1960 | 49 Nile St, Portsea, Hants |
| Elizabeth Marion | 4 July 1863 | about 1940 | Portsea, Portsmouth, England |
| Sydney George | 27 August 1865 | before 1904 | Portsea, Portsmouth, England |
| William Joseph | 19 January 1869 | about 1944 | Portsea, Portsmouth, England |
As indicated above, Walter by the time of Mary's death appears to have been employed in Portsmouth. The information that I have had verbally is that he lived with a 'favourite aunt' while he worked with the railway, and later as a tramdriver, in Portsmouth.
During the period after Mary's birth, Elizabeth Marion, the second oldest, grew up, presumably helping with the raising of the younger children. By 1881, however she is seen to be working with the local vicar as a servant in his house -- it is interesting that her name, as given in the census, is now 'Lizzie'.
Of Sydney George we know little. He appears on the census in 1871 and in 1881 but then disappears from view. Since both Walter and Elizabeth named children after him in the late 1880's I conclude that he probably died during the 1880's -- this is something we need to pursue as we continue our research into the family
William Joseph Scott grew to manhood. We have an interesting document relating to his maturing -- a receipt for school fees in 1882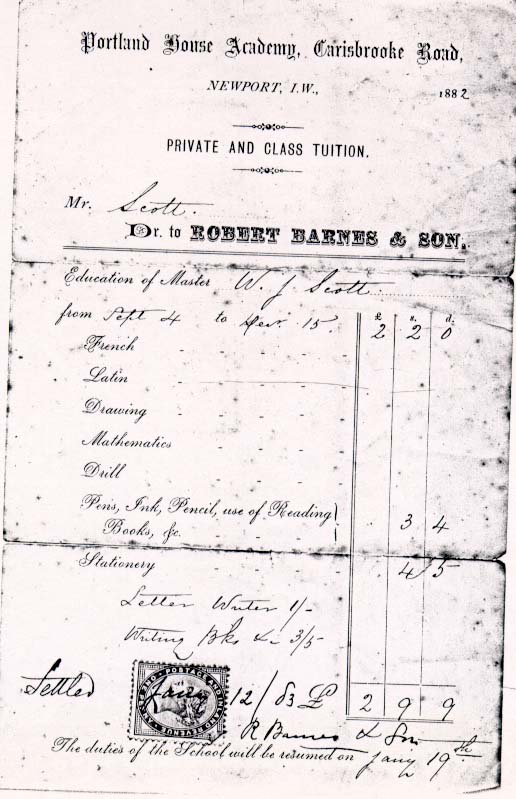 William Remarries
Sarah Langrish was a childhood friend of Mary and had obviously been a friend to William and Mary during their marriage. In 1875 William and Sarah married (it is reputed that Mary made arrangements for the marriage before she died) -- perhaps Sarah immediately became a part of the family to look after the three children. The wedding ceremony was held at St. Mary's church in Portsea and the marriage was by banns between the Widower William and spinster Sarah. William's residence is listed as 74 Stamford St. In 1881 his mother, two sisters and a nephew were living at this address. We know that William was still a warder at Parkhurst and so he clearly used his parents address to establish residency for marriage purposes. The witnesses to the marriage are interesting as the names appear in the 1881 census at the location where the son Walter is living, and Walter is identified as a nephew.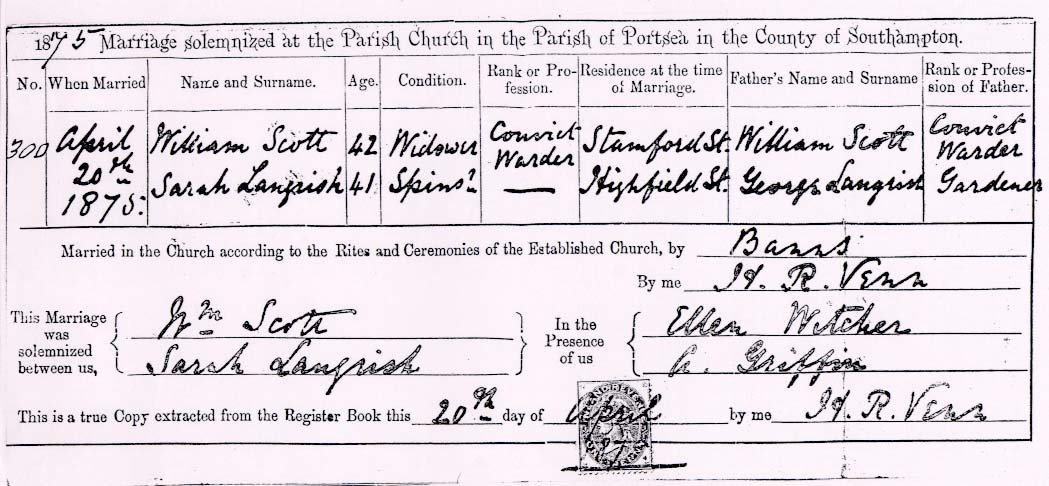 Marriage Registration for William and Sarah, April 20, 1875
Also of interest on this certificate is that Sarah indicates that she is 41 years old, a year younger than William.
| | |
| --- | --- |
| A photograph of Sarah Langrish, date unknown but probably during the 1860s | Sarah and William -- perhaps taken about the time of their marriage |
The 1881 Census
William and his family are recorded in the 1881 census as being at the Institution: "Convict Prison" Parkhurst, at Northwood, Hampshire, England. This would indicate they were living in prison supplied accommodation. William is a Principal Warden in the Convict Service and may have been the senior warder on staff. We have not yet been able to obtain any records from official sources concerning his service as a Warder.

| | | | | | | |
| --- | --- | --- | --- | --- | --- | --- |
| Name | Rel: | Marr | Age | Sex | Occ: | Birthplace |
| William SCOTT | Warden (Head) | M | 48 | M | Pc Wn Convict Service | Woolwich, Kent, England |
| Sarah SCOTT | Wife | M | 48 | F | Wife Of Pc Wn | Westbourne, Sussex, England |
| Sydney SCOTT | Son | U | 15 | M | Assistant In A Glass Shop | Portsmouth, Hampshire, England |
| William SCOTT | Son | U | 12 | M | Scholar | Portsmouth, Hampshire, England |
Source: FHL Film 1341287 PRO Ref RG11 Piece 1174 Folio 64 Page 2., from the LDS CDs
We see that Sarah's birthplace is given as Westbourne, Sussex. This is in accord with the family story that she was a childhood friend of Mary's. When we look at the parish records of Westbourne we find only one christening for a Sarah Langrish in the right time period. It records the christening on 2 January 1831 of Sarah, daughter of George Langrish and his wife Elizabeth. Notice that this makes Sarah at least two years older than William. At the marriage the certificate indicates she is a year younger. By the census we have the same number of years and we will see later that in death she is a year older! I wonder if William ever did know her age? Another interesting item is Sydney's employment in a Glass Shop. We do not know what became of Sydney. However a great grandson of Walter, Ian Fry, is a leaded lightman (he works with stained glass windows) in the Brighton area of England.
The Final Years in the Convict Service
William left the convict service in February of 1883, a few months before his 50th birthday and 28 years after joining the service. The following document was given to him on retirement to indicate his service: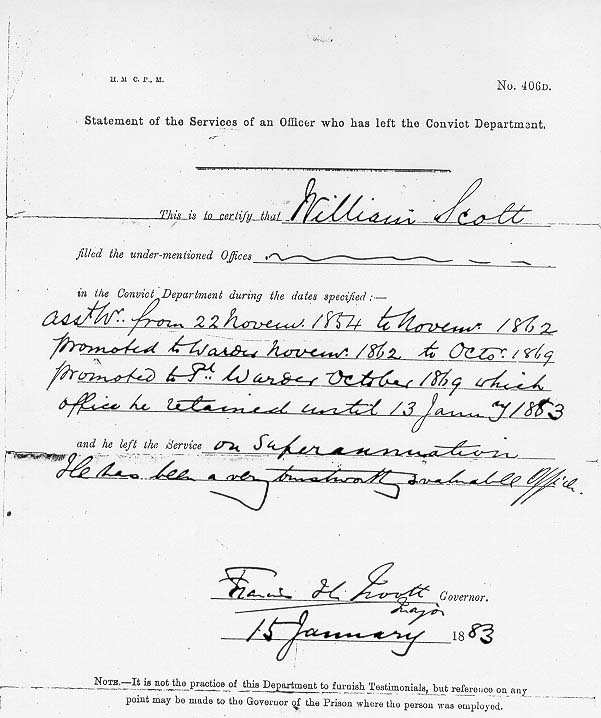 In addition to indicating his service it indicates his progress through the various promotions and indicates that he has left the service on superannuation (pension). The following letter gives us more information on his pension arrangements.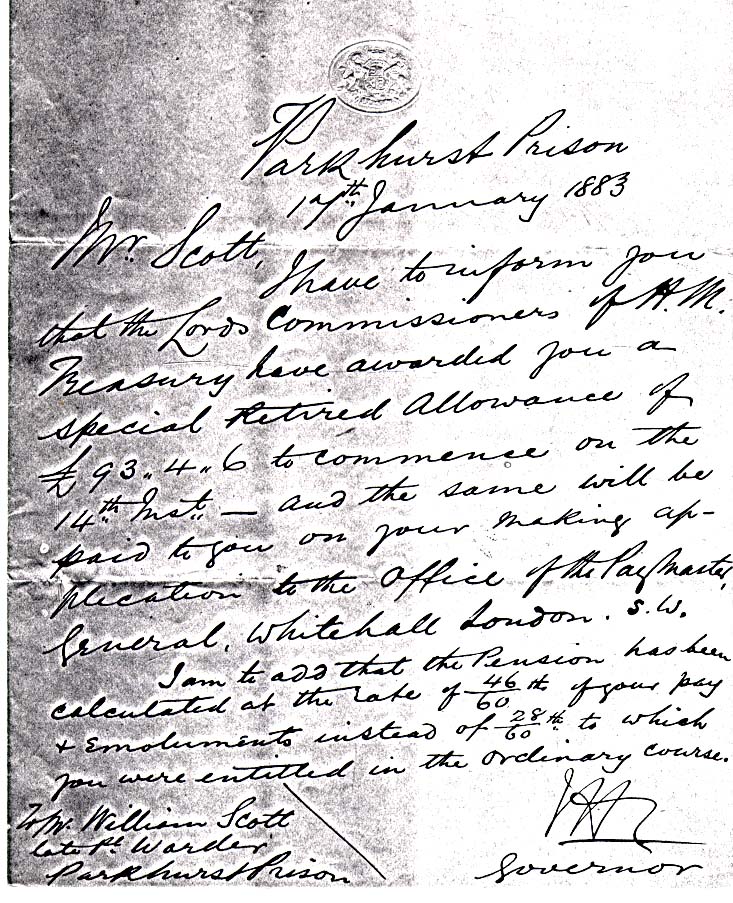 He has been awarded a pension of 46/60ths of his pay and emoluments instead of the 28/60ths that would have been his normal entitlement. This is intriguing -- what was the reason for the increased pension allocation? Attempts so far to obtain insight on this matter have not been successful.
Below is a receipt for a 'timepiece and plate to same', likely a gift of a watch and a silver plate, which presumably was a gift to William from his fellow Warders on the occasion of his retirement. These were fairly standard retirement gifts well into the 20th century. He was probably given the receipt in case he had any need to deal with the supplier.
The Retirement Years
After retirement in 1883, William and Sarah moved to Portsmouth. Family lore has it that William opened a tobacco and/or sweet shop near a school. The family may even have lived above it. There is some indication that on William's death this operation was inherited by his daughter Elizabeth Marion (Scott) Cobby and that two of her daughters who never married ran it for many years.
The 1891 Census
In the 1891 census we find the family consisting of William and Sarah and the two children Elizabeth Marion and Sydney George who are in their twenties. The address of the home is 5 Salisbury Terrace and it is in a street of commercial shops with their shop being indicated as a sweetshop and with William indicating that his employment is as a tobacconist.
In addition to this activity we know that during retirment William had some involvement with the Southsea Clarence Esplanade Pier Company. Perhaps he worked for them as a guard. In any case his involvement with them ended in September of 1898, when he was 65 years of age, at least in part due to a bad foot, as evidenced in the following letter which is among his papers.
About this time the Boer War broke out. William Joseph, the son, who was a member of the sappers (engineers) as early as 1881 went to South Africa. He survived and returned to England. We do not know what became of him. He may have lived as long as World War II, but I have no record that he ever married or had children.
The 1901 Census
The final census that includes William and Sarah was taken in 1901. In it we see the family at 40 Harold Rd. William is indicated to be a retired Principal Warder. Also living in the household is Eliza Scott, William's sister who we again see with no indicated form of employment. Also with them at the time of the census are two grand children, Henry M.and Edith M. Cobby two of the children of William's daughter Elizabeth Marion.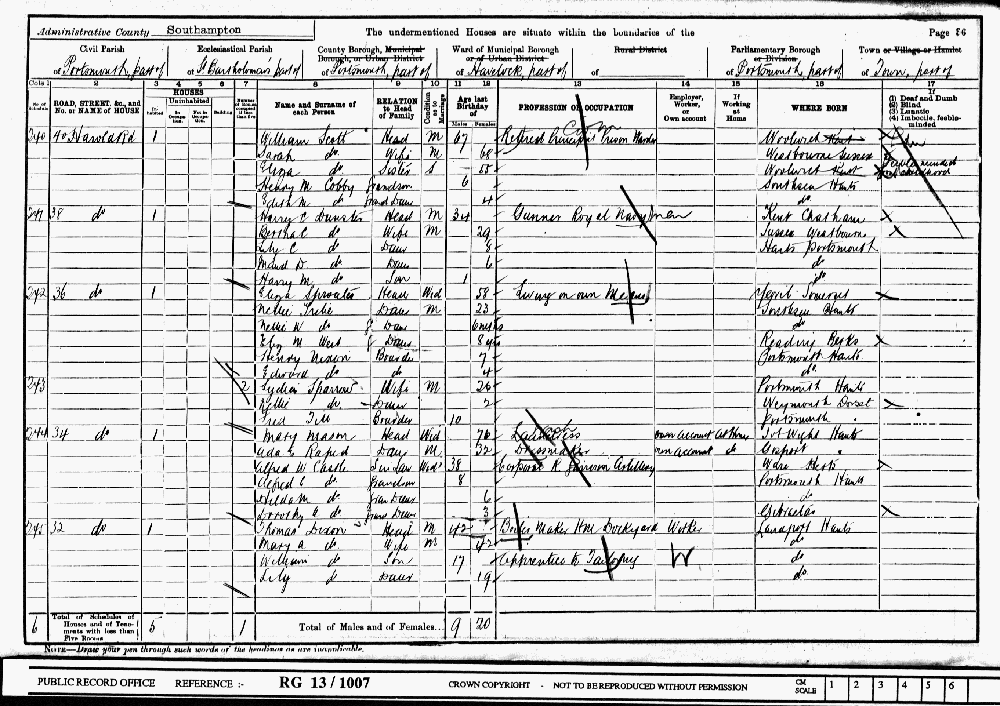 A Final Photograph
A Four Generation Photograph

This is the final photograph we have that includes William Scott. We are fortunate in having it as it is a four generation photograph.

The photograph includes William on the left. To his left we see his son Walter. Standing behind is Walter's daughter Lillian and seated on Walter's knee is Lillian's daughter Lillian Mary (known as Babs throughout her life).

The photograph was likely taken by Bert Fry, Lillian's husband.

We can date the photograph fairly accurately as having been taken in the summer of 1906. Babs was born on 1 July 1904. She certainly appears to be two years old in this photograph. (the 'c.1910' date which has been placed under the photograph should be ignored, as William died at the end of 1906)
The Deaths of William and Sarah
Sarah died on 24 November 1906 at the age of about 76. William wrote to his son Walter (at that time the police sergeant at Tolworth police station in Surbiton) to advise him of the death:
The letter is interesting in a number of ways, for what it reveals of the times and of the family situation:
William addresses the letter 'Dear Son' and refers to Sarah as Walter's mother (she was, of course, his step mother) an then signs the letter 'with kind love, your affectionate father, W.Scott'
The letter was sent to announce the death. There were no phones but a telegraph might have been used. However British post in those days would have delivered this letter no later than the next morning.
He indicates that Sarah has had a long and wearying illness, so perhaps the death was in no ways unexpected.
He then refers to Kate's illness and the fact that this was a concern to both Sarah and himself. In those days illnesses more often led to death and this would have been amongst their concerns. Kate was Walter's daughter, usually known as Kitty.
He discusses the funeral indicating that he knows Kate will not be able to come and that Lillian will also not be able to come because she will be required to look after Julia; he does expect that Walter will make it if he can arrange it and I would expect that Walter did.
William then indicates that his feet are still very bad (remember his foot problem in 1898); we do not have a death certificate but this foot condition is probably indicative of circulation difficulties and perhaps some level of diabetes.
He indicates that Lizzie (Elizabeth Marion Scott Cobby) and Eliza (his sister who was probably still a sister) and young Harry (possibly Lizzie's son Henry) were with them at the time of death.
Finally, acknowledging that Walter has had a lot of expense lately (perhaps making trips to Portsmouth as well as with the costs of Kate and Julia's care) and William indictaes he is sending £ 2-0-0 to assist.
The letter certainly indicates that he is in full control of his faculties, although the writing lacks the flow that it had when he was younger.
William survived her by only a two and one half weeks dying on 12 December 1906 at the age of 74. We do not yet have the death regisrations of William and Sarah. Nor do we have their wills, although these latter documents may exist amongst the Cobby papers.
The Graves of William and Sarah
William and Sarah were buried at the Kingston cemetery in Portsmouth. They were buried in the same grave as was common in that cemetery at that time. These graves were dug to accommodate four people. Sarah and William were the first two to be buried in their grave which was not purchased. This was common in those days. Later when other family members died they would be buried in the same grave and when it was full it became a 'family grave' by default. In the case of Sarah and William, no other family members were buried there, but apparently, at one time, there was a grave marker. In 1969, two other people were buried in the remaining space in the grave and these people have a marker on the grave. This information was provided by the manager of the cemetery, but he would not provide the exact location of the grave since the marker for the other family was on it. He did indicate that it was in the area of the cemetery just to the east of the north gate. As was common at that time a memorial card was provided for family and friends:
| | |
| --- | --- |
| | |
The memorial verse is interesting in that it may indicate that they had health difficulties in their declining years. (William's pension and the size of the estate that was left would not indicate any financial problems. We are also not aware of any undue family problems)
William and Sarah were buried in the same grave in the graveyard at Kingston Road in Portsmouth. It is common in this graveyard to bury four people in one grave, one on top of the other. Once four people are buried in the grave the grave become 'full' and the family 'owns' the gravesite. An alternative way to 'own' the gravesite is to purchase it. A stone cannot be put on the plot until it is owned. When William and Sarah were buried it was not deemed appropriate to purchase the site, but at the same time no other family members were buried there. No stone was placed on the site. This was in contrast to the site where Mary is buried in her own plot.
In the 1960's, due to a filling up of the cemetery, two other people were buried in the graveyard and the families of these people purchased the plot and put a headstone on it. When I visited the cemetery in the 1990's the staff would not tell me which grave site it was -- only giving me the general vicinity of the site which is just inside the main gate to the cemetery. Other family visitors can find the general area by visiting the cemetery office and knowing the dates of death.
The Estates of William and Sarah
We are fortunate in having some details of the estates left by William and Sarah as a result of having copies of their wills. The first document relates to Sarah's estate. It indicates she died intestate and assigns letters of administration to Walter, given that William had died before taking such letters of administration. It states that Walter will have the right to adminster all of the estate of Sarah which lawfully leaves. The document also states that she leaves no real estate and that the value of the estate is £205-0-0.
The second document likewise assigns duties of administration to Walter since his intended execturix, Sarah, had pre-deceased William. It states that the value of William's estate is £337-17-8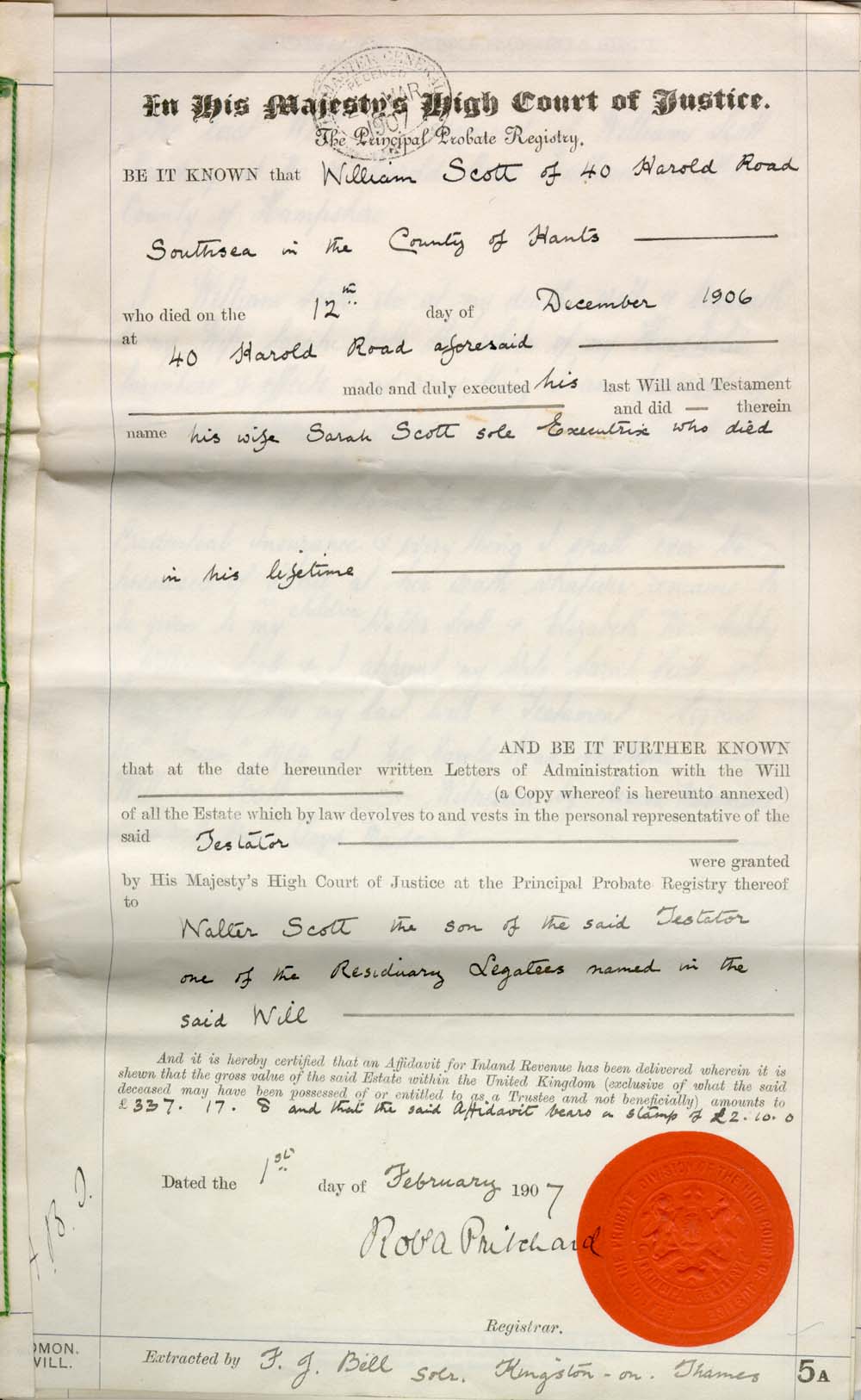 The final document is William's will. It is straightforward. The will appears to have been written in his hand and someone (perhaps a lawyer) has highlighted a number of spelling errors. The will is dated 20 December 1904 and, if written by William, displays a much steadier hand than that of his letter to Walter on the death of Sarah. He leaves everything to Sarah and on her death for the estate to be passed to his three children, Walter Scott, Elizabeth M. Cobby and William Scott. This latter statement is interesting in that it clearly indicates that his other son Sydney George (of whom we have not yet obtained any records after the 1881 census) is no longer alive. The William Scott is his son William Joseph Scott who was born in 1869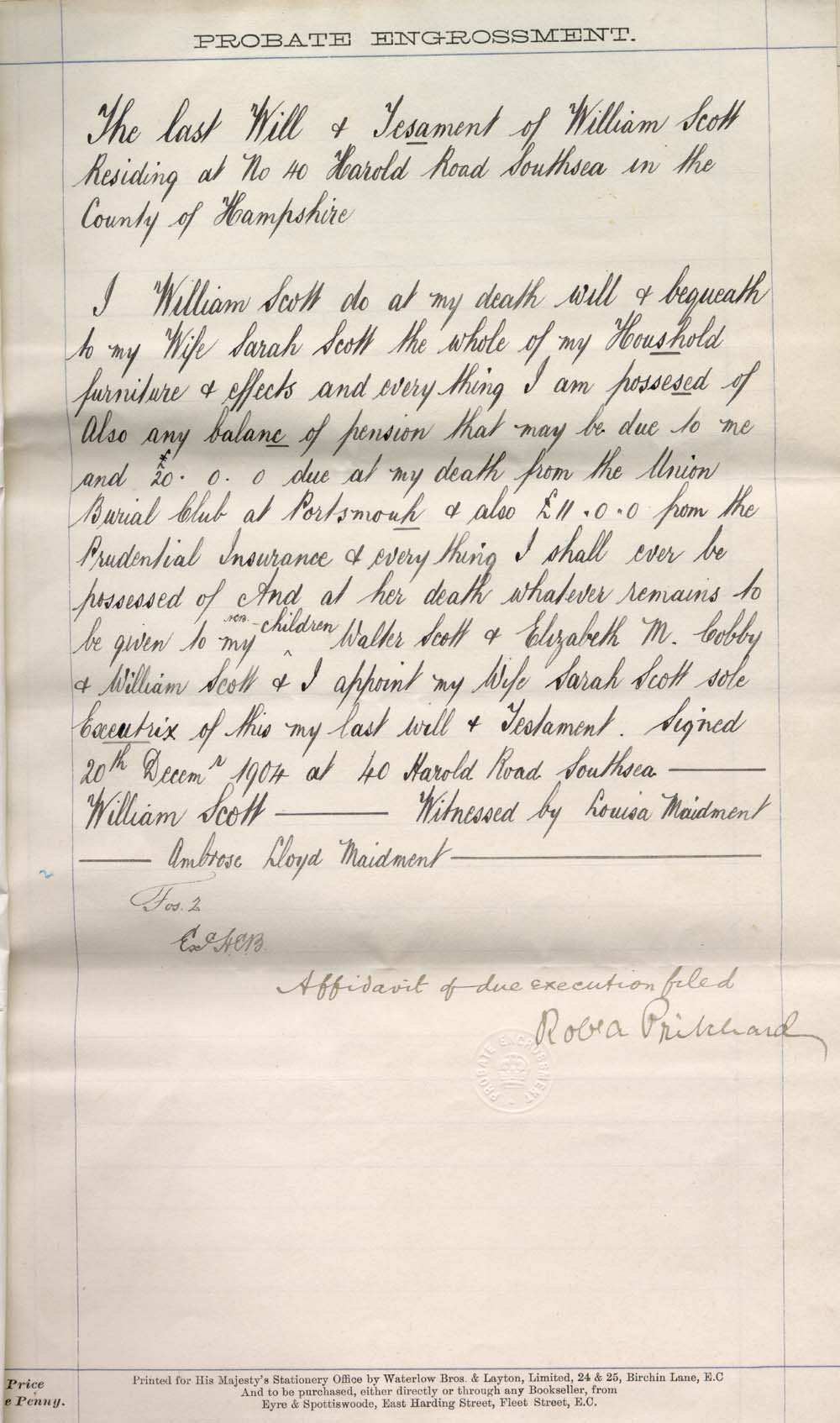 It is not clear to me what the total estate amounted to -- was it £205, £337 or £542? Regardless of the amount it was substantial. Walter Scott retired in 1907 with a pension of about £80 per annum. At this rate the estate represented between three and seven years of such pension income.
There is annecdotal evidence that Lizzie inherited the tobacco shop business and also that money left for Walter was used in part for the education of his sons Sidney and Frank.
---
İKenneth Scott and others
last modified 8 December 2001