John Thomas Scott (1836 - ?) and Martha Jacobs (1838 - ?)
John Thomas Scott was born 5 January 1836 in Chatham, Kent, the son of William Scott and Mary Catharine Hyder. We believe him to be their second child. He was born two and one half years after his older brother William, the first child of this family. He was christened on 24 January 1836 at St. Mary Magdalene Church at which time his father was a described as being a painter. Our documentation for John's birth and christening is the church record of the event which includes both dates. Unfortunately the church, while permitting one to see the record does not allow it to be reproduced.
As a child he was probably close to his grandparents. His paternal grandparents may well have been in Chatham, as his father had been born there. His mother's parents lived nearby in Charing. As a child he will have been influenced by the nautical nature of Chatham, one of the major naval bases in England, a place where ships (including the new paddle steamers) were built and from where Royal Navy ships sailed out around the world. At the same time he was probably also influenced by his mother's family and their activities. The Hyder family had been carpenters for generations in the Charing area. They may well have been involved at this time in some of the naval construction or in the massive expansion and building that was taking place in Chatham during this period. This was a period in history when England extended its empire towards its greatest extent and major military works at Chatham were part of the process which allowed this to happen.
John is listed on the census returns with his parents in 1841 (at the age of 4) and in 1951. In 1851 he appears as part of the family in a census record at Portsmouth. He is 14 years old and employed as an apprentice carpenter. He is living with his parents and all of his known siblings except his older brother William (who is known to have been at sea at this time). These census records can be seen on the page of his parents

Marriage of John to Martha Jacobs

Again we have a gap, although a shorter one, in our knowledge of John's life until 1856. John's older brother, William, was married on 3 August of 1856. There is no record of John's involvement in this marriage, however. At this wedding in Westbourne, Sussex, William married Mary Jacobs. We know almost nothing nothing of how this marriage came about. How did William and Mary meet, what was their courtship, when and where did he propose? While we know little of this marriage we can make some guesses as to the next family marriage.

Weddings are interesting family events. They bring together two families. They also bring together the friends of the bride and groom. The marriage of William and Mary may have brought together William's brother John and Mary's sister Martha. For, on 26 December of 1856, just under five months later, we find that we again have a Scott-Jacobs marriage, between these two, in Westbourne. Thus we have a case of two brothers marrying two sisters, a story that has often been recounted amongst descendants, but sometimes attributed to the wrong people.





The marriage entry in the church records reveals a number of interesting pieces of information. John is identified as being 'of full age', a bachelor and a carpenter living in Southsea (an area of Portsmouth). On this document and others we see him using both names 'John Thomas', a habit which makes it a little easier to be sure that we have the correct person. John's father is identified as being William Scott who is in the 'Convict Service'. Martha Jacobs is identified as being also of full age, a spinster (a term applied to an unmarried woman, whether or not she was employed) living in Westbourne (which was where her parents lived), with father Joseph Jacobs, a Labourer. They were married in the Parish Church in Westbourne. The signatories to the ceremony, bride and groom, and the witnesses are all literate -- at least to the extent of being able to write their names (if not the certificate would have "x" beside the name). So, on this document we see the signature of John Thomas Scott and his new wife, Martha Scott. The witnesses are Joseph Jacobs and Mary Ann Scott. It may be that the Joseph Jacobs is the brother of Martha, instead of the father. Mary Ann Scott is sister of John and this is currently the only example of her handwriting. That Mary Ann signs in this manner indicates that she has not yet married.

We are fortunate in having census records for John every 10 years from 1851 to 1901. Using these records we can trace the career of John and the growth of the family. With that information we have been able to obtain various other records in the intervals between the census. In this manner we have been able to build up a fair bit of information on the family.

Census 1861
The 1861 census is the first census after John and Martha were married. It interesting to find them sharing a home with their brother and sister William and Mary. The house was located at 19 Nile Street. At the time of the census these homes were fairly new having been built on land made available by the removal of the old town walls of Portsea. Unfortunately Nile Street was obliterated in the bombing of Portsmouth in WWII and in the re-building of the city that area was completely changed. The housing was probably of the typical row house construction In addition to the four adults there are two children, a child of William and Mary and the son, Frederick of John Thomas and Martha. Frederick is 10 months old. We see that in the 10 years from 1851 to 1861 John has progressed in his trade from being an apprentice carpenter to being a Carpenter & Joiner.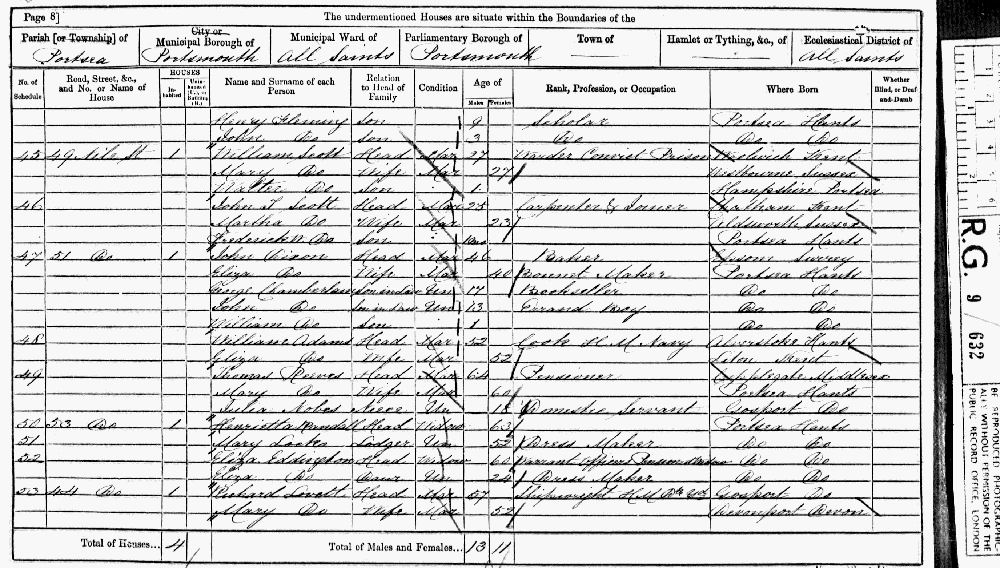 In tracing the family we located the census entry for John and William's father, William Senior, who at that time was a prison warder at Woking Prison in Surrey. It was interesting to find on this entry that William and Mary (Senior) had a three year old grandson John Scott living (or more likely, visiting) with them. It was possible to find the birth registration for young John and, indeed, he is the son of John and Martha.



Census 1871
The 1871 census indicates a series of significant changes for the family. The census entry taken below was obtained at Northwood, Isle of Wight, the location of Parkhurst Prison. Firstly we see that John has changed his career. He is no longer a carpenter, but instead, following the examples of his father and older brother, he is now a Prison Warder. We also see the family has moved from Portsmouth and has spent several years in Woking, Surrey on the way to Northwood (as evidenced by the children's birth locations). Woking was the site of another prison (no longer there) where John's father worked. It seems likely that the father helped John take advantage of an opportunity that arose.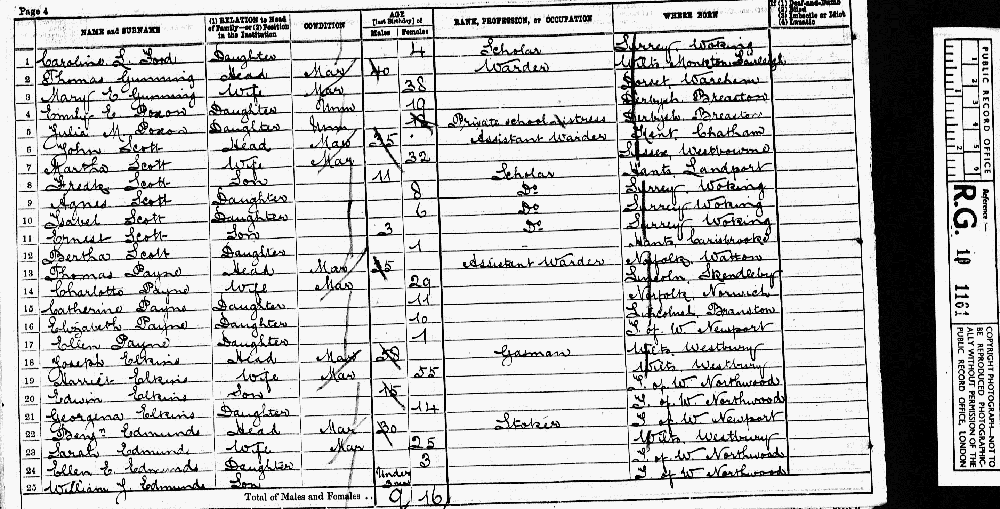 1881 Census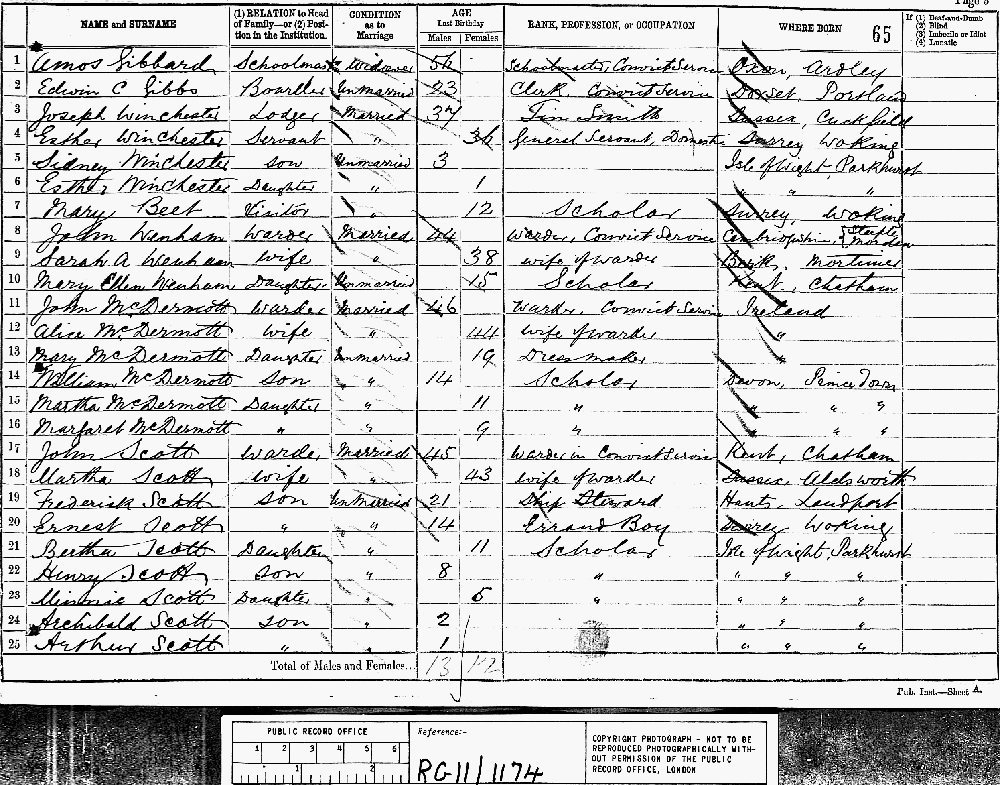 When we look at this entry we see that Martha has not been inactive during the decade. We have three new sons and one new daughter since the last census. Some children are missing from the list, however. Again, John, now twenty-three, does not show; neither do Agnes, now 18 and Isabel who is 16. Searches for John in the 1881 census have not been successful. We know that Agnes died and was buried on in St. Johns Church Northwood. Isabel shows on the census as an 18 year old working in a public house. Also missing from the list is a son Herbert, a twin of Arthur who died at the age of about 2 months in September of 1879.

1891 census
The 1891 census shows that John and Martha are no longer at Parkhurst prison on the Isle of Wight but have moved instead to Titchfield, on the mainland just to the west of Portsmouth. John is now the Hotel Proprietor of the Osborne View Hotel.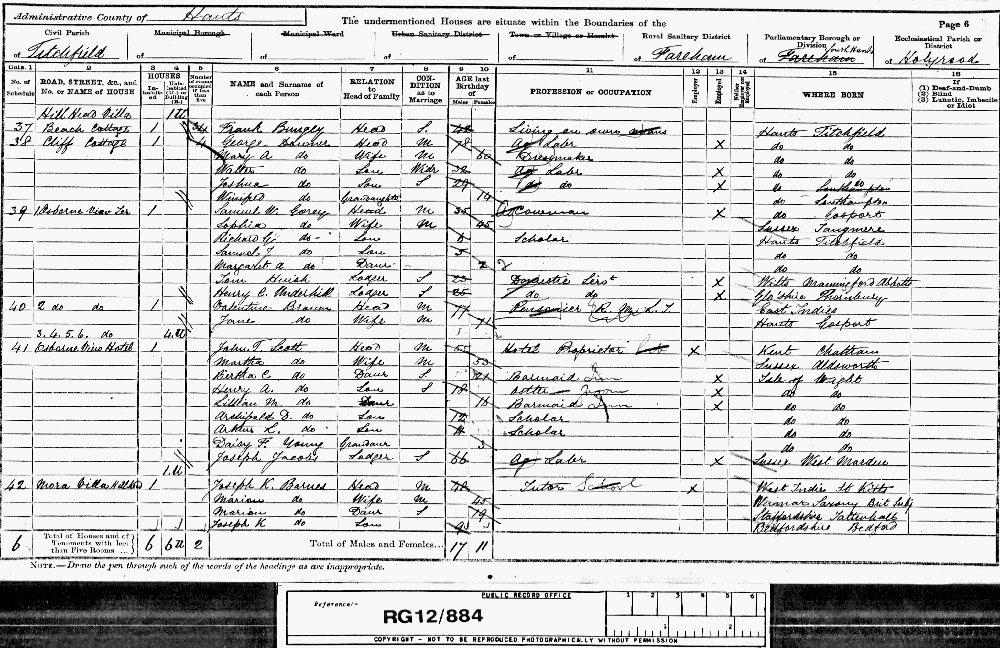 1901 census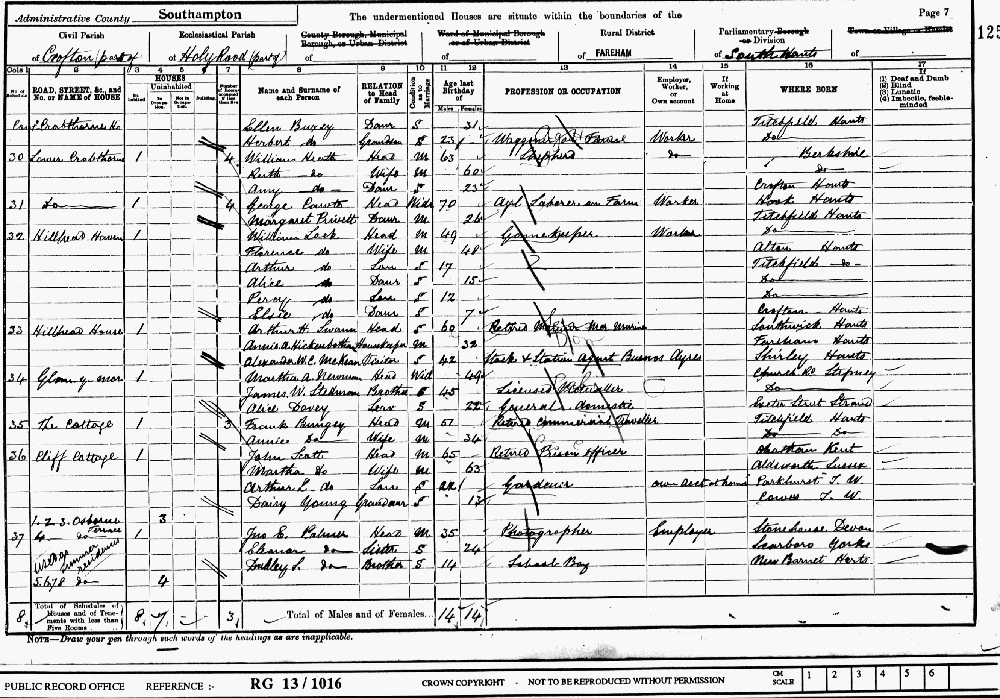 1911 Census
John's Careers
We have no personal mementos of John or Martha. There are no letters, formal or otherwise. We have no anecdotes that have passed down through the generations. There is no evidence however that they were not part of a vibrant family of several siblings living within the umbrella of a patriarch who was instrumental in ensuring the security and success of his children.
John was obviously close to his brother William. After their marriages, to sisters, this bond undoubtedly grew. William the older brother had gone to sea for about eight years while John went into the trade that had been in his mother's family for several generations: he became a carpenter. First, he spent time as an apprentice (in time we may find a copy of the apprenticeship papers). Later he became a journeyman. During this period of his life which took him from the age of about 13 to 25 he worked as a carpenter. However, it appears that around 1863 or 64 a career in the 'Convict Service' offered him a brighter future.
His father and older brother (by this time) were warders. His father was at Woking prison and we see that during the latter half of the 1860's John is at Woking prison, as an assistant warder, as shown in the 1871 census where he appears with Martha and some of the children. However, by 1881 he has moved to Parkhurst Prison on the Isle of Wight. He is there at least as late as 1884, the last date for which we have definite information regarding him. There seems to have been a tendency in the Convict Service to retire warders at the age of 50. If this was the case then John retired about 1885. On the other hand he may have needed 25 years of service before retirement which would place it abut 1887. It is likely, either way that he was retired by 1890.

By the time of the 1891 census we see that John and Martha are living in Titchfield, Fareham and that he is the proprietor of the Osborne View hotel. By 1901 John is retired, indicating on the census that he is a retired Prison Officer.

Photographs
| | | |
| --- | --- | --- |
| | These are the only photographs we have of John. We do not know of any photographs of Martha or the children. | |
| John Scott about 1870 | | John Scott about 1890 |
Family Life
We have almost no additional details of the family life of John and Martha. What we do know of the family generally seems to indicate that they were relatively close as a family. Geographically John and Martha lived in at three locations, Portsmouth, Woking and Northwood, after marriage. During that time we currently have indications of four separate abodes. While in Portsmouth they shared a home with William and Mary for two years or more. Their sister Mary Ann Scott was nearby as was the Jacobs family in Westbourne. Several of John's younger siblings were still living with their parents William and Mary in Portsmouth for part of that time. Then later John and Martha moved to Woking for a few years where they were again near John's parents and younger siblings, at least one of whom became a warder. Later John and William had moved to Parkhurst Prison around the same time. So there was close proximity of the family and every indication that they spent much time together.
Of course, with at least eleven children, even though at least four died in childhood, the house was full and clearly active. We see from some schooling records that the children were being schooled (as required by law, but not always done).
The only other small piece of information on John and Martha is that when Mary Ann died, they purchased the household effects from the estate. We can only hope that in time will make contact with some of their descendants and that perhaps more of Mary Ann's photographs of the family have survived.
The Children
The following table summarizes what we know of the children of John Thomas and Martha.
| | | | | | | |
| --- | --- | --- | --- | --- | --- | --- |
| Name | Birth date | Born at | Baptism | Career | Date of Death/Marriage | Place of Death |
| John Thomas | 29 October 1857 | 9 Cumberland St., Portsea | | | before 1864(?)[1] | |
| Frederick William | 26 December 1859 | 49 Nile St. Portsea | | Ships Steward in 1881 | | |
| Agnes Marion | Abt. 1862 | Woking, Surrey | | | 4 March 1872 | Northwood, IoW |
| John James(?)[1] | spring 1864(?)[1] | | | | before 1871[1] | |
| Isabella | 17 March 1865 | Woking, Surrey | | barmaid in 1881 | m.Charles Young | |
| Ernest | 1868 | Woking, Surrey | | | | |
| Bertha Caroline | 1870 | Carisbrooke, IoW | 17 April 1870, the Garrison Parkhurst | | | |
| Albert Henry | 1873 | Parkhurst, IoW | 24 Nov 1872, Northwood | | | |
| Lillian Minnie | 9 may 1875 | Parkhurst, IoW | 26 Sept 1875, the Garrison Parkhurst | | | |
| Archibald Douglas | 3 July 1878 or 29 Aug 1878 | Parkhurst, IoW | 17 Nov 1878, Northwood | | | |
| Arthur Lewis | about September 1880 | Parkhurst, IoW | 9 Nov 1879, Northwood | | | |
| Herbert Edgar | about September1880 | Parkhurst, IoW | 9 Nov 1879, Northwood | | about 15 September 1880, burial 18 Sept 1880 at St Johns church Northwood | Parkhurst, IoW |
[1] This entry for John James may be spurious. There was a John James Scott christened on 20 Nov, 1864 at St. Mary's, Portsea, one of the churches used by my Scott family. The parents of this John James were John Scott and his wife Martha. I have not seen the birth certificate and cannot therefore verify that Martha was Martha Jacobs. We have no record of a John James later on. The table presents a scenario that might be correct or may not be -- we can only validate or disprove these assumptions by finding relevant death or birth records.
[2] There are many records available on the Isle of Wight which provide information on the family of John and Martha. These records are gradually being indexed and some of them may eventually be available on CD or internet databases. In the meantime Ann Barrett who has been involved in this indexing has extracted the following records for us. The first of these are records which relate to baptisms and burials. Note in particular the twin sons christened on 9 Nov 1879
Deaths of John and Martha
We do not have the death certificates for John and Martha but there are listings in FreeBMD as follows:

Q4 1908 John Thomas Scott age 71 in Westbourne
Q4 1909 Martha Scott age 72 in Westbourne

These people are the right age to be our John and Martha, both deaths are in the same registration district, and there are no other John and Martha Scott combinations in that area, of the right age, in the 1901 census. So, even without seeing the death registrations, we can be fairly sure these are the correct death registrations.

It is interesting to see the registrations being in Westbourne (only about 6 miles from the 1901 Fareham census location). Westbourne was Martha's birthplace and the home of the Jacob's family.


The following have helped in preparing this page through sharing knowledge or materials
This document is 'in progress'. Any errors are mine. Contributions to this account of John and Martha's lives would be much appreciated.