Archibald Douglas Scott (1878 - ) and Frances Mary Collins(1878 - )
Archibald Douglas Scott was a son of John Thomas Scott and Martha Jacobs. From records on the Isle of Wight we learn that his date of birth was 3 July 1878.

Archibald married Francis Mary Collins (FreeBMD) in the third quarter of 1906 in Portsmouth.

Francis Mary Collins, born in 1878 in Chidham (near Westbourne) Sussex, was the daughter of ????

Archibald appears as a child of 2 in 1881 and a child of 12 in 1891 in the family census records for his parents. At the age of 12 he is still in school.

1901 Census
RECORD NOT YET FOUND


1911 Census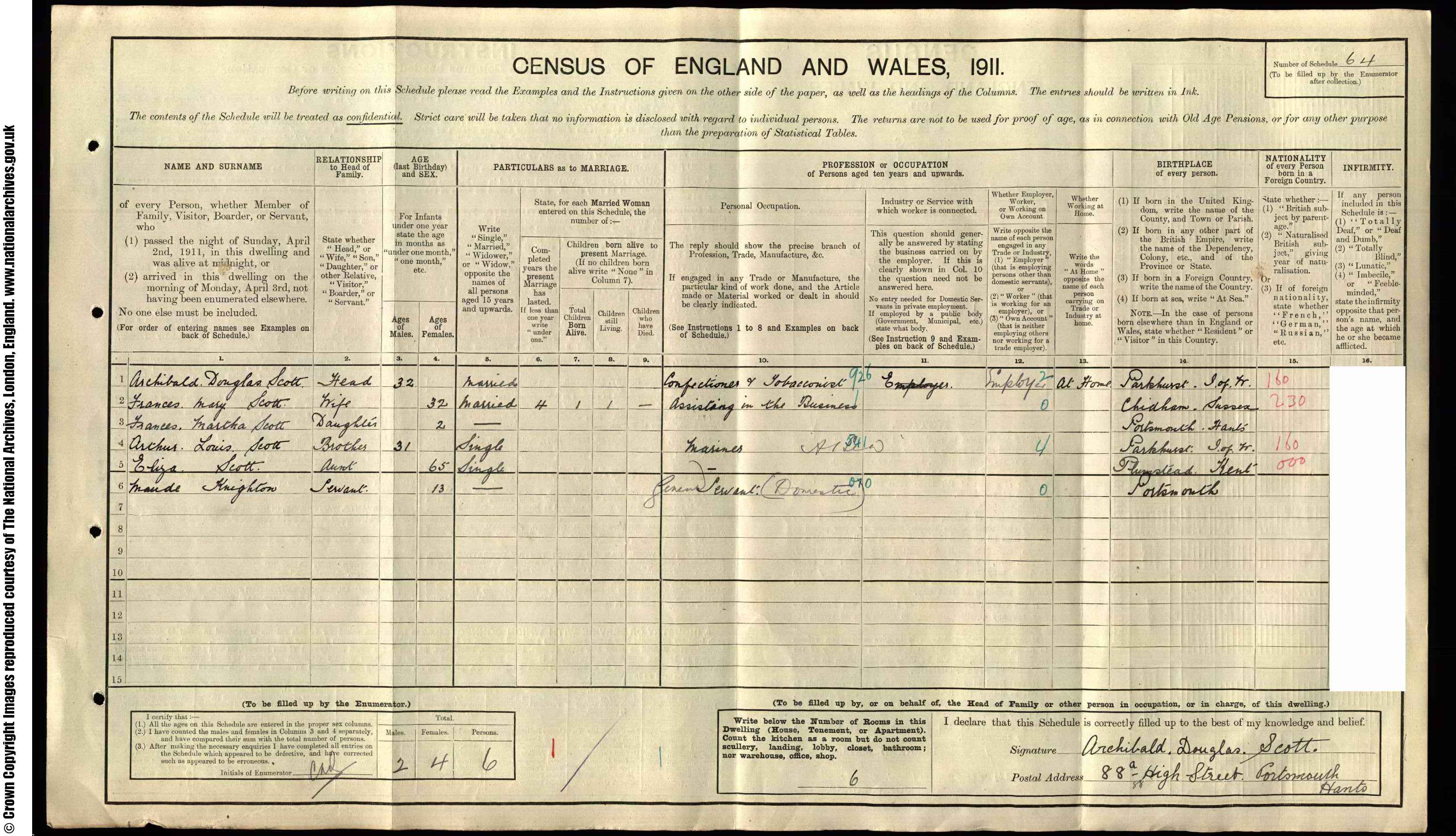 The 1911 census record reveals a number of items. Firstly it shows that Archibald has been married and using his wife's name and the time of marriage we were easily able to find a record of the marriage and hence the maiden name of Frances. We see that two family members are living with the couple, in addition to the daughter Frances Martha who is 2 years old (their only child to date).

Firstly we learn that Arthur Louis Scott, a younger brother is unmarried and a mariner. Additionally we learn that Eliza, Archibald's aunt of 65 years, a sister to his father John Thomas, is living with them. Eliza never married and for many years she lived with her mother Mary (nee Hyder).

Finally we see that Archibald at 32 is a confecioner and tobacconist living at 88a High Street in Portsmouth. Interestingly, until a few years earlier, his grandfather William Scott b. 1833 had in retirement been in the same business and other family members on the Cobby side were also doing that in Portsmouth about that time.

---
Research Required:
obtain copies of original BMD certificates for this family
determine if other children came of this family
make contact with descendants if any
obtain photographs
determine the later life of the family

---
Acknowledgements:
Findmypast.co.uk for 1911 census image
Ancestry.com for other census images
FreeBMD.org for various marriage, birth and death records.
Jean (Scott) Reed

---
©Kenneth Scott, Jean Reed and others 2010