Martha May Miles (1896 - 1926) and Charles Morgan (1895 - 1923)

Martha May Miles, always known as May was born 5 February 1896 in Mountain Ash at 20 Mount Pleasant Terrace. She was the 5th child (or at least the 5th to survive childhood) of Edmund Miles and Lucy Ann Thomas.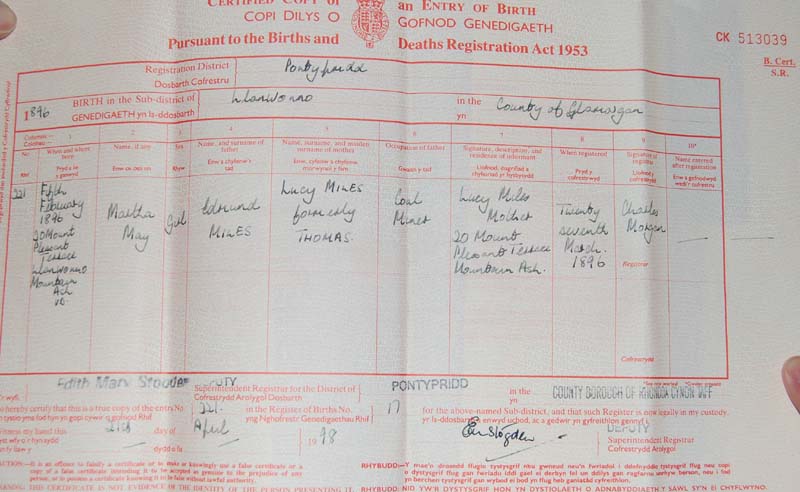 Birth Registration for Martha May Miles

[1]

We have a photograph which includes May at the age of about 15 together with the children who were younger than her in the family. There was a gap of about 4 - 5 years between May and the next oldest, Ester and so May was always considered the leader of the 'second half' of the family.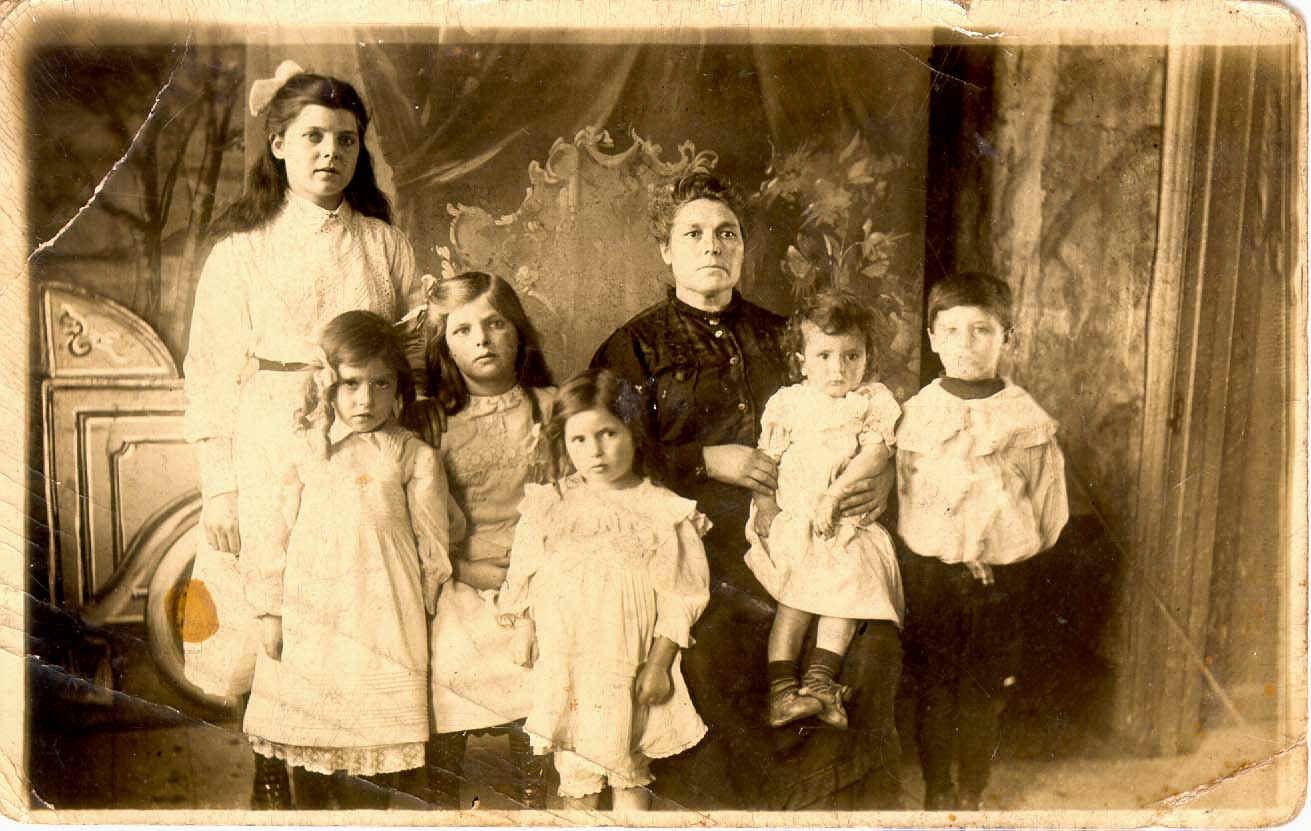 May is standing on the left. The others from left to right are Blodwyn, Hannah, Annie, Lucy Ann, Ivor and Edmund. The photo was taken about 1912 after the death of thomas Emrys.






Charles Morgan, always called Charlie, was born September 12, 1895 at 15 Chancery Lane in Mountain Ash. He was the second of 6 children born to William and Sarah Jane Morgan.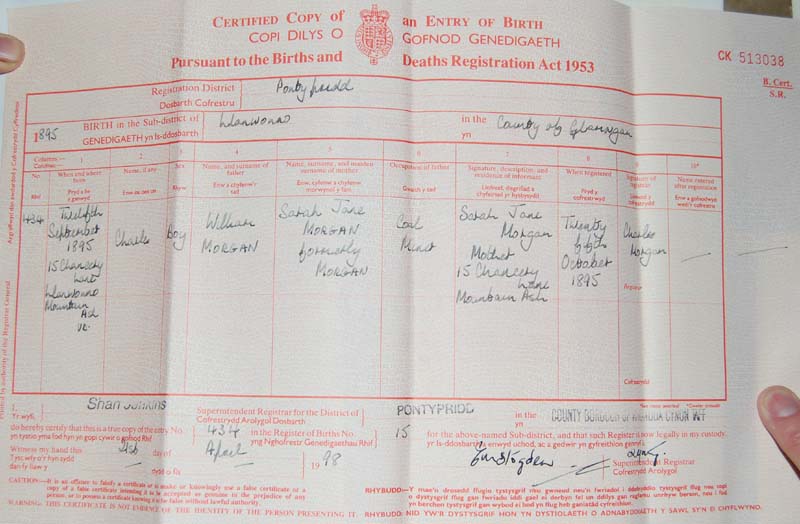 Birth Registration for Charles Morgan
[1]
Marriage and Family
May and Charles were married in the registry office of Pontypridd district on 9 July 1914.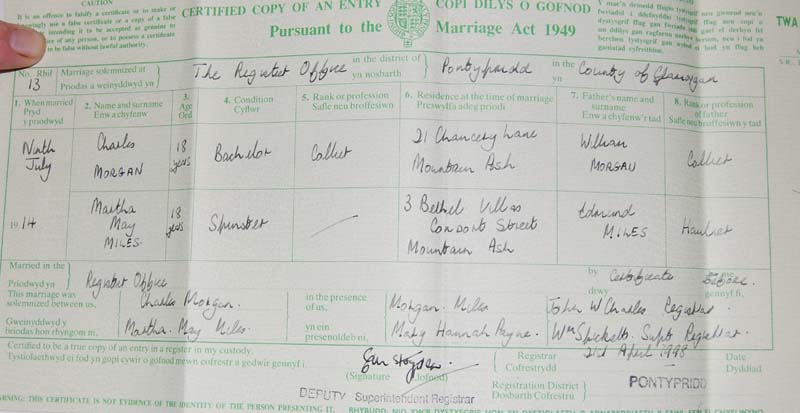 Marriage Registration for Martha May Miles and Charles Morgan





A few months later, their first child, William Charles (always known as Charlie) was born. They had three children.


Children of Martha May Miles and Charles Morgan
| | | | | | |
| --- | --- | --- | --- | --- | --- |
| Name | Date of birth | Date/Place of Birth | Married to | Date of Death | Place of Death |
| William Charles Morgan | 18 Sept. 1914 | Mountain Ash, Wales | Edna | about 2004 | Rochester, Kent, England |
| Phyllis May Morgan | 29 June 1917[2] | Mountain Ash, Wales | Arthur Saunders, Leslie Scott | July 25, 1985 | Ottawa, Canada |
| Morgan John Morgan | abt. 1920[2] | Mountain Ash, Wales | Bridey | about 1970 | London, England |
| | |
| --- | --- |
| | |
| Phyllis, Charlie an Morgan (about 1923?) | Phyllis, Charlie an Morgan (about 1930?) |
Life
We know little of the life of May and Charlie. They married in 1914. Charlie went off to war. He returned and was a miner.

Edmund, Charlie's brother-in-law said "He was a singer - -knew a lot of songs -- always singing." I recall Edmund singing one of Charlie's favourite songs to me. It was something about wanting to be a millionaire.

There is only one known photograph of Charlie at this time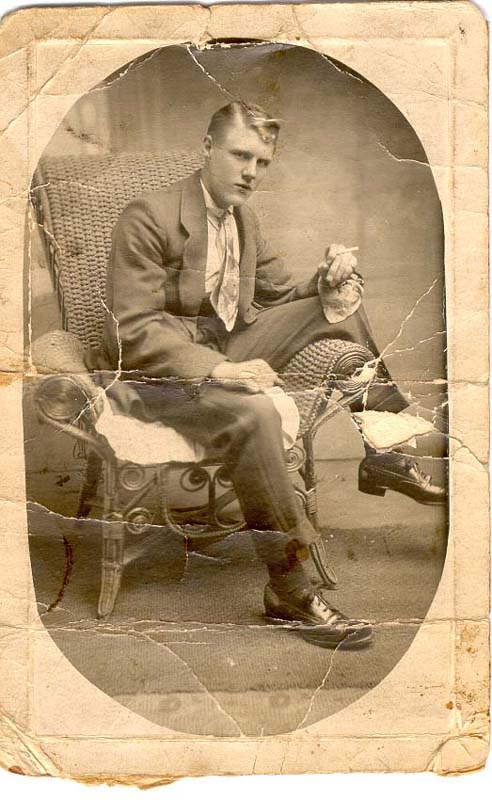 Charles Morgan about 1915





Of May, Edmund said she played piano by ear and tha she was an alto with a wonderful voice. Blodwyn always referred to how much fun she was as an older sister -- always joking and playing around. We have more photos of her as a young woman and mother

| | |
| --- | --- |
| | |
| May, perhaps about 1913-4 | May about 1915; she appears to be in the same chair as Charlie in the above photo |
| | |
| May with Charles? | May with Morgan(?) and unknown woman |
Death
Charlie and May both died at an early age, Charlie three years before May. When may died she left three orphaned children of ages 12, 9 and 6.

Brother-in-law Edmund recalled that Charlie died shortly after his father-in-law Edmund who passed away March 27, 1922.

On July 11 Charlie died of stomach pain. Edmund, May's younger brother went for a doctor and the doctor said to use a hot compress. Edmund insisted that the doctor come to see Charlie. Charlie grabbed Edmund and gave him a kiss and said he loved him. The doctor came in the morning and sent Charlie to the hospital and there he died from a perforated duodenal ulcer. Brother-in-law Edmund was with him when he died.

After Charlie's death Martha lived for a while with a policeman. Charlie Jr. did not get along with him and was sent to live with his paternal grandfather. Shortly after, May died from a hemorrage. Brother in law Edmund was with her when she died and he stated that the death was a surprise.


| | |
| --- | --- |
| | |
| Death Registration for Charles | Death Registration for May |


As is common in Wales, they were both buried in the same grave plot. The entries in the grave registry book, now located in Aberdare, read as follows.

"Burial entry 3549 Maes-yr-Arian Burial Ground in Mountain Ash

Charles Morgan, 27 yrs., Coal Miner, died 11th July 1923, The Cottage Hospital, Mountain Ash, Llanwanno, Ordinary, grave no. 4974, burial 5 p.m. July 16th, 1923, Rev. S. Morgan, The mark of Wm Morgan, 21 Chancery Lane, Mountain Ash."

"Burial Entry 4142 Maes-Yr-Arian Burial Ground, Mountain Ash

Martha May Miles, 30 years, Widow, died 8 Feb., 1926, General Hospital, Mountain Ash, Llanwanno, Reopen, grave 4974, buried 13th Feb 1926 at 4:15. Rev. J.H. Davies. W.G. Lloyd, 39 Duffryn St., Mountain Ash."

The grave is located at N 51deg 41.078 min, W 3 deg 23.446 min

Their daughter Phyllis arranged to have a headstone and kerb added to their grave on 7 Mar 1969. To do this the grave was purchased in perpetuity by Mrs. Rowena Hallett, 11 Bailey St., Miskin, Mountain Ash. Rowena was a cousin of Phyllis. Phyllis visited the grave shortly afterward the kerb was added and is shown at left putting flowers on the grave.

| | |
| --- | --- |
| | |
| daughter Phyllis at grave in 1967 | |




Credits:


[1] Special thanks to my sister Margaret (Saunders) Skinner who collected the various documents. We are both grandchildren of May and Charlie.
[2] Photographs from album of May's daughter Phyllis May (Morgan) (Saunders) Scott

---
©Kenneth Scott and others
written 9 July 2009