Marriage and Family
Family lore and other documents indicate that Mary Ann married George Cole. The marriage was registered in the third quarter of 1863 [FreeBMD] in Portsea.


Our next documentation for Mary Ann, from 1864, is the:

Birth Registration of George Ernest Cole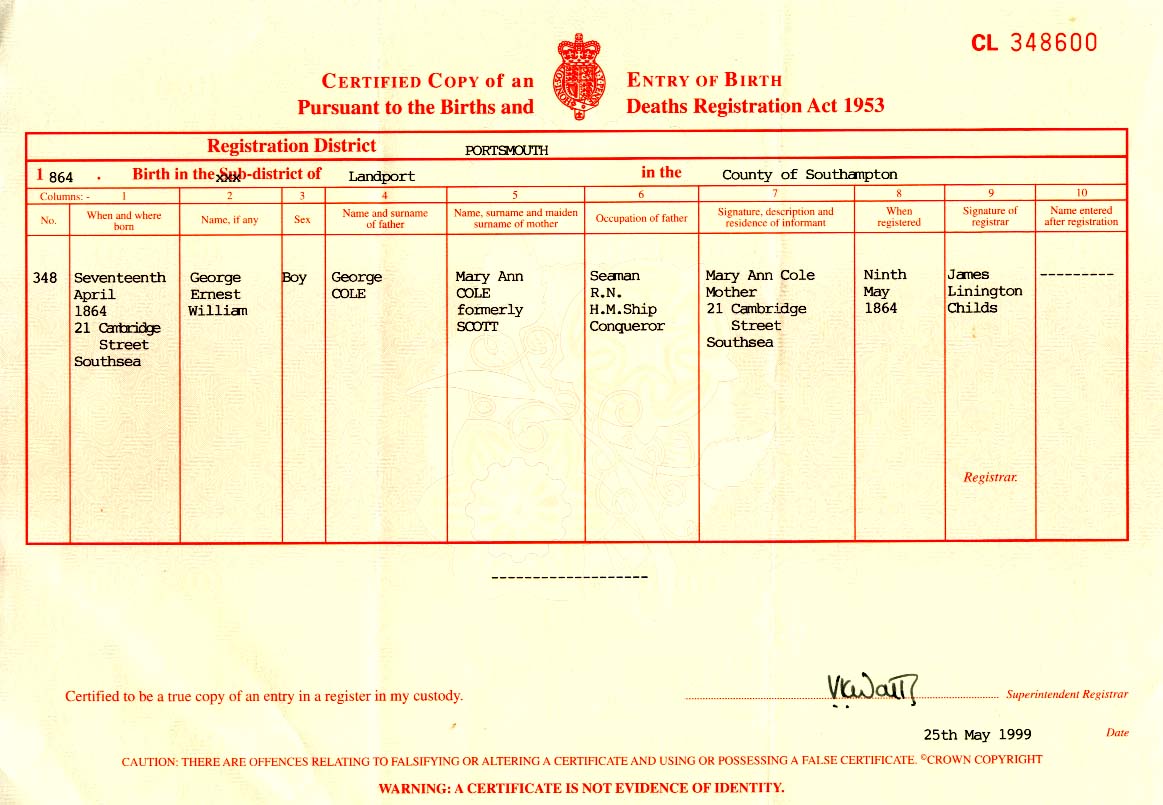 From this certificate we learn that Mary Ann has married George Cole who is a seaman in the Royal Navy on the Her Majesty's Ship Conqueror. She is living at 21 Cambridge Street in Southsea.

It appears that there were no further children of the marriage.

Southsea Portrait Gallery, Athol
House, Kings Road (Entrance Norfolk Street), W. Amey Proprietor

Mary Ann's Working Career
It is not clear what occupied Mary Ann's time between her childhood and marriage. She was 'at home' at the age of 12 during the 1851 census which meant, if nothing else, that her formal education was probably finished. At that time she might well have been helping her mother in running the household, looking after four younger children and helping with the care of her father and older brother who was an apprentice carpenter. She may then have worked and that work may have been in a photographer's establishment.
Photography was a growing industry in England during that period, but most photographs were taken by professional photographers working in business set up for that trade. They usually took posed photographs in studios. The studio would be equipped with one or more backdrops which could be interchanged depending on the wishes of the subject. Several of the photographs that we have show such various backdrops, often not very well set up. We can often group photographs as having been taken at the same time by the backdrops in them.
Generally in these early days, photographs needed to be posed. The emulsions on the plates (glass plates were used -- film was yet to be developed) was slow and the subject needed to sit quite still or the resulting. Partly because of this most photographs taken in the early days are of only one person --easier to keep one still than two. The lighting was also critical and the photographer could control the light from his magnesium flash bar more easily in a confined studio environment. The few early photographs of persons posed for outdoors scene group photography often have one or more blurred images. Among the various problems of this approach of photographing only one individaul is that we do not have group photographs from which we can deduce who people are -- some of the most useful of these are 'four generation' photgraphs.
The roles that Mary Ann could have performed would include receptionist, handling bills and payments, assisting the photographer to set up backdrops and pose subjects. Perhaps she did all of these. She might also have been involved in developing plates, preparing them or other lab work associated with providing the finished prints for the client.
During her career, Mary Ann might have worked with more than one photographer. Many of the photographs do not have the photographer identified. However many do, and these are mostly from the photographer W.V. Amey located at 253 Commercial St. This was one of the main business streets in Portsea at that time (the street still exists but has been almost completely rebuilt as a result of damage during WWII.
It would be interesting to know if Mary Ann worked in photography prior to her marriage. It is most likely that upon marrying she became a housewife. However it is possible that she did not, and that she worked until her first pregnancy. Raising a child was considered a full time occupation in those days and it is likely that Mary Ann was at home for many years with her son George.