Elizabeth Ann Hyder (1808 - 1871)
Elizabeth Hyder was the oldest of nine children christened by Richard Hyder and his wife Ann in Charing, Kent. She was born on 29 April 1808 and christened a month later on 22 May at the Church of Saints Peter and Paul. Her father Richard was a carpenter by trade.[1]
We have little of knowledge of her childhood. As the eldest she may well have been involved in raising her younger siblings. At the age of 24 she married James Finch in Charing. The witnesses at the wedding were Richard and Kitty Hyder[1] Richard was presumably her father and Kitty was a younger sister born in 1813. It is interesting that her immediately younger sister Mary Catharine, born in 1810 was not a witness, nor was Elizabeth a witness at Mary's wedding five months earlier.
We do not know what happened in this marriage. It is not clear if there were any children. The most likely thing is that James died. This may have occurred before 1840, for on 18 Oct 1840 there is a christening of a Charles Packham, son of Charles Packham and his wife Elizabeth Ann at Holy Trinity, Newington, Surrey, England[2]. We have not examined the birth registration for this child. However we do have the birth registration for a Frederick Packham born twenty ninth of June 1846 - 46 Warner Place to Charles Packham and his wife "Elizabeth Ann PACKHAM, formerly HYDER, latterly FINCH" in the parish of St. George the Martyr in Southwark, Surrey.[2]
Birth Registration of Frederick Packham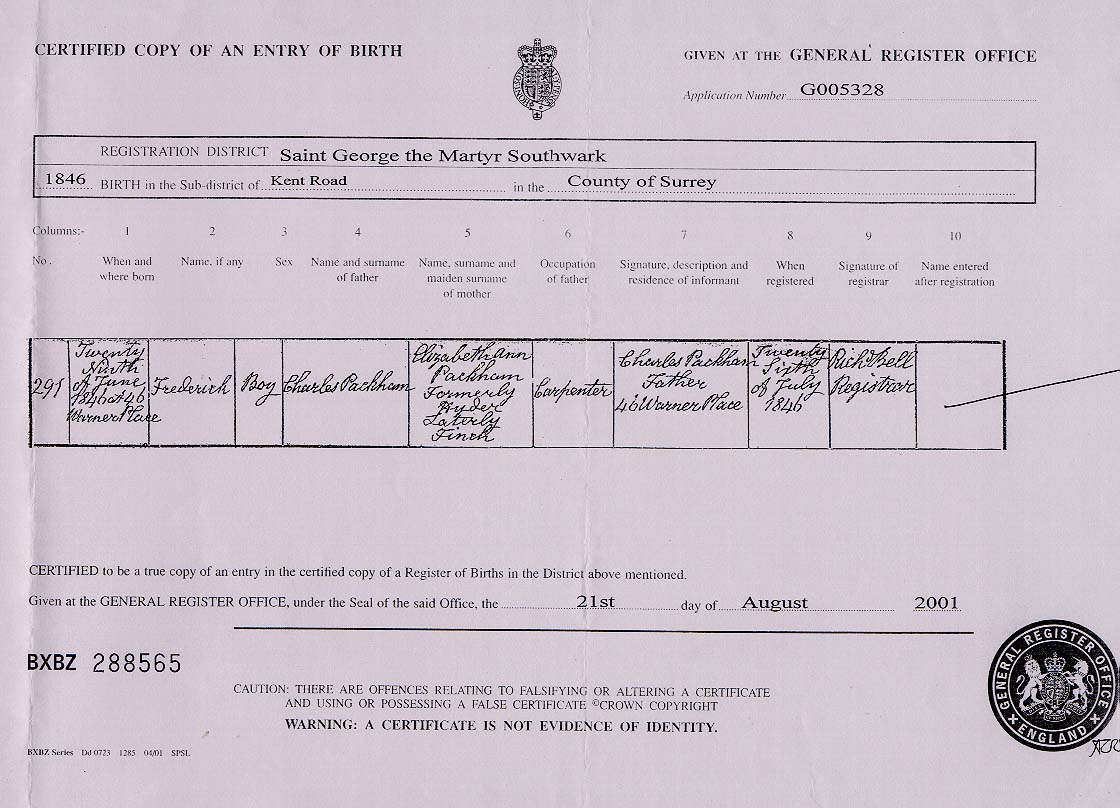 Frederick's birth registration reveals a number of interesting things. There are the details of the time and location of birth of Frederick. Next we see that the mother is "Elizabeth Ann Packham, Formerly Hyder, Laterly Finch". This traces Elizabeth Ann, from her maiden name of Hyder to her first marriage to (James) Finch and then to her marriage to Packham. Then we learn that the father Charles Packham is a Carpenter. Both Elizabeth Ann's father and her first husband had been carpenters. Finally we have the address of Frederick's birth place, and their residence, 46 Warner Place in the subdistrict of Kent Road, Surrey, in the registration district of Saint George the Martyr Southwark (in modern day London on the south bank of the Thames.
Photographs
These two photographs come from a Packham Family Bible, which in addition to having family records included a number photographs of unidentified people. The names in the Bible include Elizabeth Ann and Charles Packham, their son Frederick, his wife Mary and Frederick and Mary's son Frederick.

Based on the fact that these family members are the only ones mentioned, and noting a significant similarity of features between the photograph on the left and that of Mary Catherine Hyder, sister of Elizabeth Ann, it seems highly likely that the photograph on the left is of Elizabeth Ann.

Due to the age of the individual on the right and the likely date of the photograph, we conclude that the individual is almost positively Charles Packham.

Both of these photographs are very posed and obviously taken in the studios of the respective photographers. This helps date them as being taken about 1860.

Note: The suppositions on these identifications are mine and may be incorrect.

Elizabeth Ann Hyder about 1860

This photograph was taken by "Turner Photographer South West Corner King & Yonge Streets, Toronto"

Charles Packham about 1860

This photograph was taken by Fenner & Co., Photographers, 45 King Street East, Toronto
Census of Ontario, 1871

Census of Ontario, 1871, District 4 West Toronto, sub-district 3, No 3 Division, page 88
The next information that we have on Elizabeth Ann and Charles come from the Census of Ontario, 1871, shown above. In this census we find them living in St. Marks Ward in Toronto. The census lists Charles as being 52 years of age, a carpenter born in England. Elizabeth Ann is listed as being 63 years of age, also born in England. There is no actual address for their home. They also have living with them Emily Packham, 14 years of age, also born in England. The census does not indicate relationships between people in a household and so we have to presume at this time that Emily is a daughter. In making this assumption we note that Elizabeth Ann would have been 49 years old at the time of Emily's birth. There are no other persons listed in the household. If Emily is a daughter, it is likely that the family emigrated to Canada after Emily's birth which was in 1857. The only other information on the census indicates that the family is of the "W. Methodist" religion. With this information we are able to create the following (possibly incomplete and possibly incorrect) table of the
Children of Elizabeth Ann Hyder and Charles Packham
| | | | | | |
| --- | --- | --- | --- | --- | --- |
| Name | Date of christening | Date of Birth | Marriage Information | Date of Death | Place of Death |
| Charles | 18 Oct 1840[2] | 1840 | | | |
| Eliza Ann | | 1843[6] | | | |
| Frederick | | 29 June 1846[4] | Married Mary Ann Colby at Holy Trinity Church, Toronto, 13 May 1870[3]. | after 1870[3] | |
| Alfred Edward | | 3rd quarter 1849[6],[7] | | | |
| Emily | | 1857 | | after 1871[5] | |
The Death of Elizabeth Ann
The final information we have on Elizabeth is that she, "Elizabeth Ann PACKHAM died at Toronto July 25,1871 in her 64th year. Native of Charing, Kent, England". This information is written in a family bible which has survived. It is perhaps more than coincidence that a grandson, Frederick Thomas PACKHAM died July 25, 1871 age 3 mo.12 days (son of the above mentioned Frederick) died on the same day[3]
Sources
[1] Transcribed from parish registers of the Church of Saints Peter and Paul, Charing, Kent by Gill Hyder
[2] from the International Genealogical Index of the Church of Jesus Christ of Latter Day Saints
[3] Information provided by Bill Harrison from a Packham family Bible.
[4] Birth registration (see above for facsimile)
[5] Census of Ontario, 1871.
[6] Ship arrival 29 May 1857; the family arrived on the Northumberland.
[7] Alfred Edward birth registration in 3rd quarter 1849 on FreeBMD.
---
Acknowledgements:
The following have helped in preparing this page through sharing knowledge or materials
Gill Hyder; for much of the information on the Elizabeth Ann family background, birth and first marriage details (not all of which is shown here)
Bill Harrison; for copies of photographs and documents in a Packham family Bible.
Philip Griffiths; for perseverance on tracing Mary Ann Scott, Mary Hyder and contacting Gill Hyder
Joanne Jones, descendent of Alfred Edward.

This document is 'in progress'. Any errors are mine. Contributions to this account of Elizabeth Ann's life would be much appreciated.
---
ŠKenneth Scott and others
last modified 30 September 2004