1841 Census
In 1841 we can locate Mary and the family in the following census record: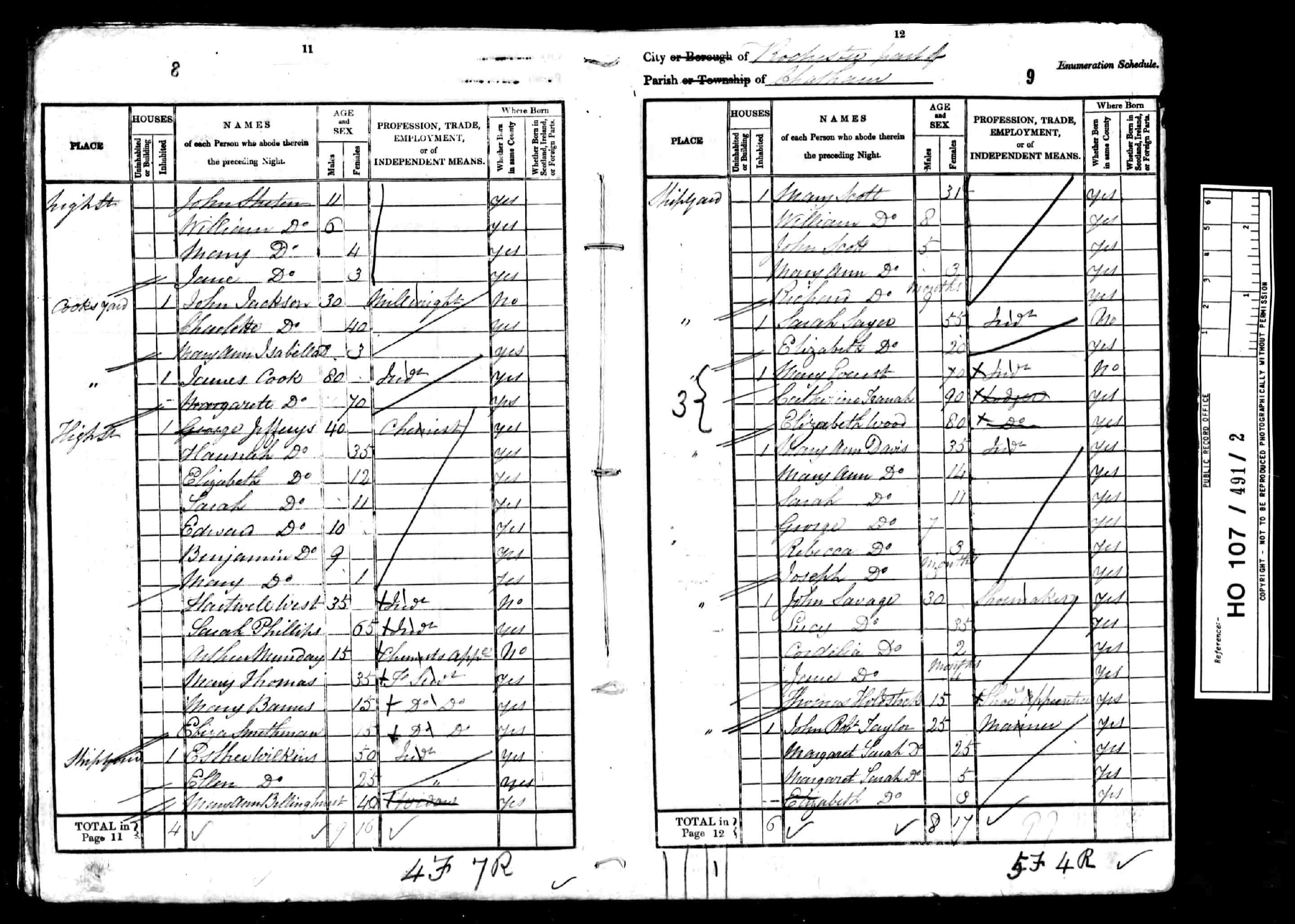 We have not yet located an entry for William who was apparently not home at the time of this census. We see the four eldest children listed. It is possible that there have been other children who did not survive, but we have no positive information on that.


The Career as a Prison Warder
Britain started a major expansion of its prison facilities in the late 1840's, including the building of a number of new prisons. Persons with military experience were well positioned to take employment in the Convict Service as warders. (We cannot at this time be sure that William sailed with the navy, but his location at Chatham and Woolwich which were major naval bases, strongly suggests that). Financially, the opportunity was attractive. An assistant warder might earn twice as much as a sailor (as we see from studying the life of his son William). In addition the employment was steady, not from ship assignment to ship assignment as it was in the navy at that time. This was enough to bring William into the service. We see that by 1851 he has moved the family from the Woolwich area to Portsmouth and has become a prison warder there. The 1851 census return does not include the oldest son William but from other sources we know that he was a sailor at this time.It is interesting that William also apparently later arranged for at least three of his sons to become warders.
1851 Census Entry for the Household of William Scott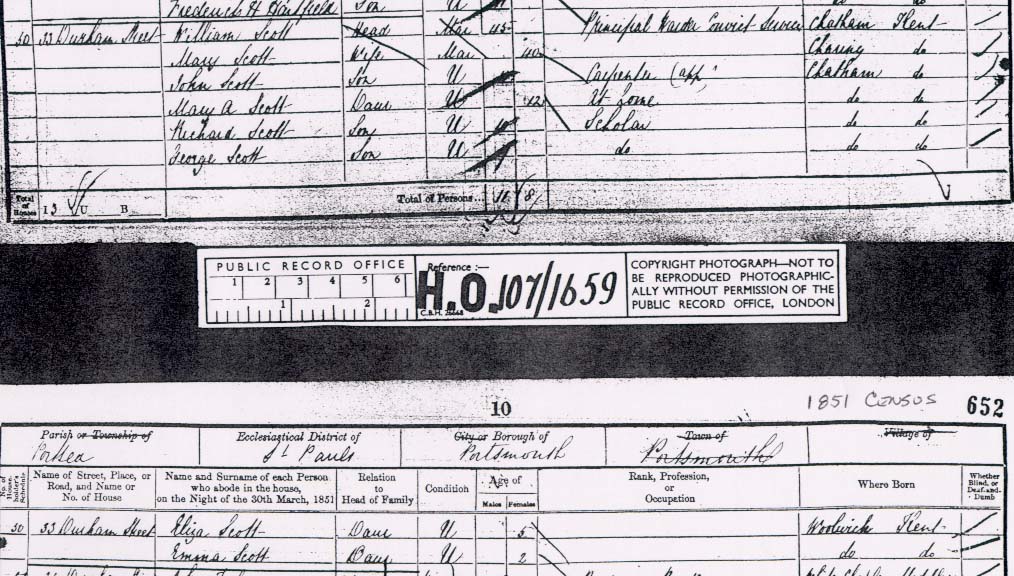 (Note: The Crown permits copying and reproduction of these census data for non-commercial, research purposes)
William moved from Portsmouth to Woking Prison where he is located on the 1861 census. This move might well have been in conjunction with the opening of Woking in 1859. We were fortunate in knowing of this move from a note left by his granddaughter Lillian Scott (mentioned above).
1861 Census Entry for the Household of William Scott

The census entry is from Woking, Surrey. The address of the residence at the time of the census was 110 Government Buildings -- these buildings were later re-named, but at this time had just been occupied and bore the government building designation. It is interesting to note that the only children still living at home are Eliza and Emma, however a grandson, John Scott (son of John Thomas Scott and Martha Jacobs) was staying with them at the time of the census.
William is listed as being a prison warder. However, ten years later in 1871, he does not appear there, while his son Richard is on staff at Woking at that time. The 1871 census finds Mary a widow living at 78 Stamford St. in Portsmouth. Her occupation is described as a "mangling woman"; this was a woman who put clothes through a wringer (mangler) in a laundry.
1871 Census Entry for the Household of Mary Scott
The Family Grows Up
The life of the children will be dealt with in other documents. It does however appear that the family was fairly close. William and John married sisters Mary and Martha Jacobs on separate occasions in 1856 and William Sr. was a witness at John's wedding. John's son, John was with his grandparents in Woking in 1861 at the time of the census, and was living with his widowed grandmother in 1871 at age 13. Woking and Portsmouth were not far apart and the rail line between Portsmouth and London, which passes through Woking, had been completed in 1845. Mary Ann was married sometime before 1865 and bore a son. Mary Ann was a photographer's assistant and it is undoubtedly with thanks to her that we are fortunate enough to have photographs of William and Mary, probably taken around 1860.
| | |
| --- | --- |
| | |
| William Scott (1805 - ) | Mary Catharine Hyder (6 May 1810 -Q1 1896) |
It is an interesting exercise to attempt to date the photographs. In doing so we recall that the first daguerreotype was made in 1839. By 1850 photographs on paper started to become common in England (in the U.S. the technology moved in the direction of tintypes). The photograph of Mary was taken in Portsmouth at the studio of W.V. Amey, 253 Commercial Rd. We have a number of photographs taken there and it is likely that this is the studio in which the daughter Mary Ann worked. In 1851 the family was in Portsmouth and Mary Ann is listed as being 'at home' in the census record. She had probably finished her schooling by this time (10 year old Richard was a 'scholar; while 14 year old John was an apprentice carpenter) and she may well have started in a shop within a year or two. This could indicate that Mary's photo might have been made about 1855 when she was about 45 years old, an estimate that I think is consistent with her image.
William Scott's photograph is a little more 'stilted' and appears, in quality, to have been taken a bit before this. His hair does not show a preponderance of gray coloration. It may well be that it was taken about 1850, and maybe even a couple of years earlier, just at the start of the explosion in photography. At this time he would have been about 45 also.
We have some other photographs of persons identified only as cousins of William, the son. Are these on the Scott side or Hyder side?
The Final Years
We have little information on the final years of William and Mary. We can conclude that William died before 1871 when Mary lists herself as a widow. It is likely that a death registered in Q3 1870 in Portsmouth for a William Scott age 64 (from FreeBMD) is that of our William Scott. However we do not know if he died before retiring, or if he retired. He might have been working as a warder again at Portsmouth prison or he might have retired and moved to Portsmouth with his wife and daughter Eliza.
| | | | | | | |
| --- | --- | --- | --- | --- | --- | --- |
| Dwelling: | 74 Stamford St. | Census Place: | Portsea, Hampshire, England | | | |
| | Relationship | Occupation | Marital Status | Age | Sex | Birthplace |
| Mary SCOTT | Head | Annuitant | W | 70 | F | Charing, Kent, England |
| Eliza SCOTT | Daur | | U | 35 | F | Plumstead, Kent, England |
| Mary A. COLE | Head | Shop Woman (Photographers) | W | 42 | F | Chatham, Kent, England |
| George COLE | Son | Shop Boy | | 16 | M | Southsea, Hampshire, England |
Census Details, 74 Stamford Street, 1881 Census
Source: Census of Britain 1881, from CD of the Church of Jesus Christ of Latter Day Saints, FHL Film 1341283 PRO Ref RG11 Piece 1154 Folio 12 Page 18
By 1881 we find that Mary is living in Portsmouth. She has moved from 78 Stamford St. to 74 Stamford St. during the past 10 years. She shares a house with two of her daughters, Mary Ann (Cole) and Eliza who has not yet married. Mary Scott is living on a pension. The daughter, Eliza appears to not have an income source. Also living with them is George Cole, Mary Ann's son. Mary Ann, like her mother, is listed as a widow. Just across the water on the Isle of Wight we Mary Hyder Scott's two sons, William and John who are both working at Parkhurst Prison. In 1883 her son William will retire and move back to Portsmouth, so that is she is still alive and he is nearby.
Our last census reading for the family is in 1891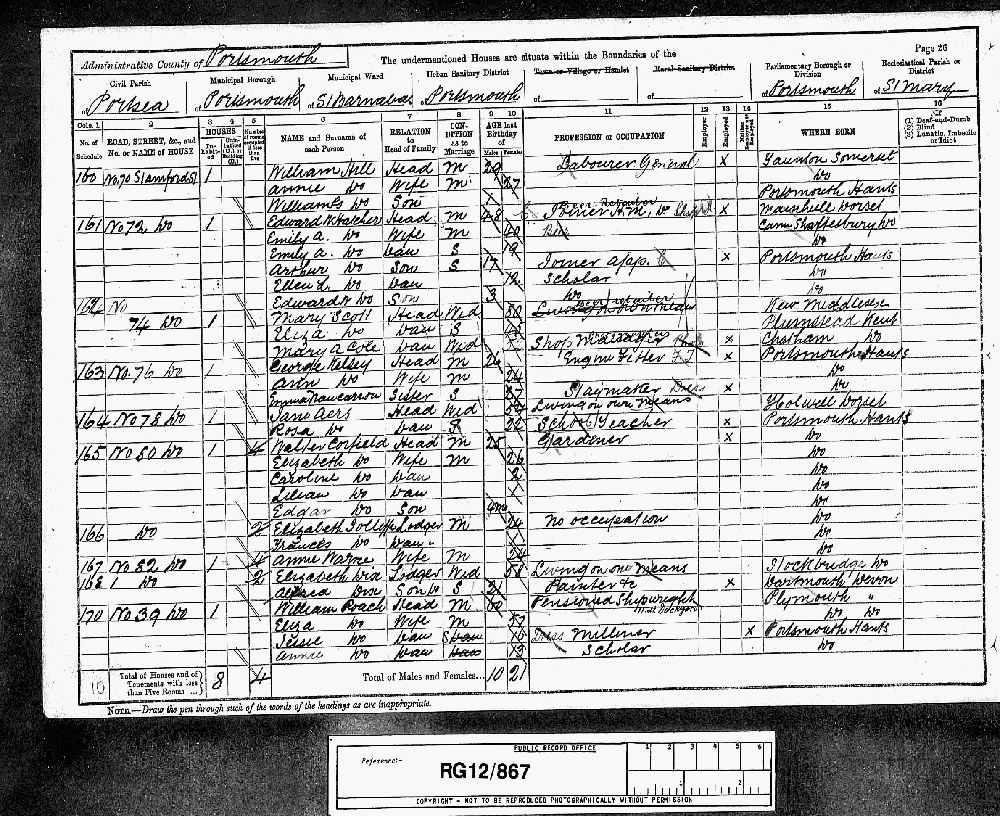 The entry for Mary who is now 80 years old is a bit confusing. The entry shows initially that she is living on her own means (i.e. a pensioner or annuitant as shown in 1881) but that has been crossed out and replaced by the occupation of beer retailer. Additionally, although she has in all previous census returns indicated her birthplace as Charing, Kent, she is now indicating it is in Kew, Middlesex. These answers may well be a bit of mischievous behavior on her part, or, alternatively, may indicate a degree of senility. Again we see the daughter Eliza living with her. Eliza is now 45 years old and in all census entries we have seen so far she is living with her parents and has no occupation. It is possible that she was unemployable for some reason, but no information seems to have been passed down in the family about this. We also find that the daughter Mary Ann Cole is part of the household, however Mary Ann's son George is no longer with them.